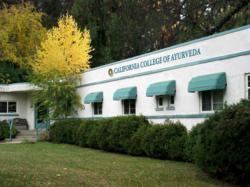 ORGANIC INDIA's generosity will benefit students, graduates, patients and all humanity
Boulder, Colorado (PRWEB) February 03, 2012
In a show of tremendous generosity and support for Ayurvedic education and the promotion of herbs as medicine, ORGANIC INDIA, an herbal company based in Lucknow (India) and Boulder, Colorado (USA), has committed to helping the college build the first teaching herb garden and outdoor classroom of its kind in the United States.
The garden, to be known for at least the next 3 years as the "ORGANIC INDIA Herb Garden," is the first of its kind in the United States. Designed as a mandala with a water feature at its center, the garden will consist of 8 large beds that will house between 50 and 100 species of medicinal plants. Ayurvedic students and students in the herbal apprenticeship programs at the college will care for the plants under the supervision of the director of the herb department, Brenda Igler who will work with the students to take the herbs from seed to medicine. Students in the program will grow and pick the herb and then learn to prepare a variety of medicines including herbal salves, oils and ghees.
The California College of Ayurveda (CCA), located in Nevada City, California has been pioneering professional ayurvedic training since 1995 when it began offering the first state-approved program of its kind in the United States. Founded by Dr. Marc Halpern, CCA has become the largest, fully dedicated college for the study of Ayurveda in the United States. Say's Dr. Halpern; "I am so happy that ORGANIC INDIA has stepped up to support ayurvedic education in the United States. It is important that companies who are aligned with ayurveda and herbalism support education. ORGANIC INDIA has set itself apart from other organizations through its humanitarian efforts. Their generosity will benefit students, graduates, patients and all humanity."
ORGANIC INDIA works with thousands of family farmers in India, cultivating tens of thousands of acres of certified organic farmland. The farmers are commissioned to grow organic crops, which ORGANIC INDIA purchases at a premium market price. The company supports their farmers by providing training, health care and education that enable them to be self-sufficient and to develop organic farming skills that will be passed on to future generations.
ORGANIC INDIA is most well-known for it's Organic Tulsi Tea products, which are found in health food stores nation-wide. It was organized in the mid 1990's in Lucknow India. The founders are followers of the teachings of Sri H.W.L Poonja, lovingly known as Papaji, whose simple teachings can be summed up as "Keep quiet. The eternal truth exists with you. Listen within and the truth of itself will be revealed to itself."
For more information contact Dr. Marc Halpern by phone at 1-866-541-6699 or by email at drh@ayurvedacollege.com. Contact Penny Cole, representing ORGANIC INDIA, at penny(at)organicindiausa(dot)com
###