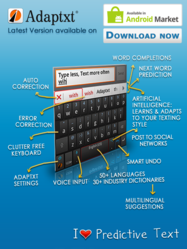 Communicate More
Glasgow, UK (PRWEB UK) 2 February 2012
Adaptxt Beta Version 0.7.1 brings real time intelligence to the keyboard with its unparalleled ability to learn from users' writing style. It also offers highly-relevant text prediction, error-correction & auto-correction to assist users with input on their Android phones. This new Adaptxt release has been targeted for global users with an enviable collection of 50 languages and other industry specific dictionaries, with the ability to offer multilingual suggestions dynamically as the user types ahead. It leverages linguistic and artificial intelligence to offer users a fluid and enriched text input experience.
The Adaptxt Beta Version 0.7.1 enables quick and easy typing on both hard keyboards and virtual keyboards. In addition to the powerful features mentioned above, Adaptxt Version 0.7.1 delights users with special features like:
-Smart Undo: when a word unexpectedly gets auto corrected, tapping on the Smart Undo key can help users undo/revert back to the intended word.
-Learn from a Social Network: Adaptxt offers enhanced personalization by learning a user's writing style and digital vocabulary from text already posted to his or her social profiles and apps.
-Post to Socials: Helps users seamlessly post text written in any text field to various social profiles and apps without having to copy and paste the same.
-Learn from Phonebook: Learns names and other relevant information pertaining to a user's contacts to help improve prediction and correction accuracy.
The Adaptxt beta version 0.7.1 on Android is built on a host of these power packed features. Now users can download Adaptxt beta version 0.7.1 and all the add-ons absolutely free from the Android Market for a 90 day period from the date of install. It will also be available soon on Amazon and Getjar app stores.
About KeyPoint Technologies
KeyPoint Technologies (KPT) is a world leader in user interface technology, passionate about combining linguistics and computing technology to deliver new experiences for consumers. KPT enables OEMs, operators and developers increase the quality and effectiveness of their text input engine, predictions, corrections & input interfaces, across a wide range of platforms and connected devices, at the same time lowering the cost of doing so. KPT is a true innovator which has always believed in technology for the community by the community and hence has recently joined Linux Foundation, setting larger goals for OpenAdaptxtTM, the open source text input platform it launched in May 2011.
###