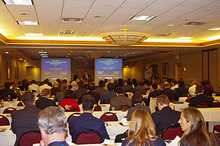 This is one of the best EB-5 conferences... really enjoyed it.
New York, New York (PRWEB) February 01, 2012
Brian Su, CEO of Artisan Business Group, Inc., announced today that the 2nd Annual EB-5 Investment Summit: Dealmakers Conference is to be held in New York City, New York. The April 27th, 2012 event will be centered on the Immigrant Investor Program, a 1990 initiative of the U.S. Congress. This program, more commonly referred to as "EB-5," seeks to stimulate the U.S. economy through job creation and capital investment from wealthy immigrants, while providing those immigrants a practical green card alternative. The program has been a growing success, with much foreign investment pouring in from China, Korea, the U.K. and Latin America. In the past five years, more than $3 billion of international capital have been invested into the U.S. economy through EB-5 regional center program, creating tens of thousands jobs in a variety of industries. The 2012 Dealmakers Conference aims to help domestic companies grasp the opportunity for foreign capital funding in order to create more American jobs and promote recovery in the U.S. economy.
The all-day conference will feature highly-regarded industry experts and VIP guests, including H. Ronald Klasko, Partner of Klasko, Rulon, Stock & Seltzer, LLP, and the EB-5 Chairman of the American Immigration Lawyers Association (AILA), Jeffrey B. Carr, President and Economist of Economic & Policy Resources, Inc., Mr. Boyd Campbell, Immigration Attorney of Immigration Law Center, LLC, Mr. Brian Su, CEO of Artisan Business Group, Inc., Ms. Hong Yu, US Project Manager of Wailian Overseas Consulting Group in China, and Mr. John Jiang, CEO of Micon International. Some of the topics discussed at the event will include creation of American jobs through the EB-5 Regional Center Program, the running of a Regional Center, building a strong and winning brand for an EB-5 Regional Center, selection of viable projects for the Chinese emigration agencies, and procurement strategy of EB-5 investors in China. More guest speakers will soon be announced.
"The demand for capital and jobs are high in our economy, the EB-5 immigrant investors program can help us create more American jobs throughout communities, it will be a win-win situation for all." says Brian Su, CEO of Artisan Business Group, Inc. The 2nd annual Dealmakers Conference will bring international EB-5 investment professionals, as well as those inexperienced with the EB-5 program, a great opportunity to learn more about foreign investment and network with field experts. Those attending will get the chance to make connections and develop strong relationships with some of China's top EB-5 emigration agents.
This year's event is being hosted and sponsored by Artisan Business Group, Inc., and Wailian Overseas Consulting Group. The Hilton New York will serve as the venue for the conference. Those attending the event also have the opportunity to meet the prior day with Artisan Business Group's CEO, Mr. Brian Su, for a 1-hour private consultation.
For more information regarding the event, registration, or a private consultation with Mr. Su, please visit: http://www.EB5NewYorkSummit.org.
Press Contact:
Mr. Brian Su
Artisan Business Group, Inc.
http://www.EB5NewsBlog.org
# # #