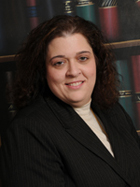 If the intention of the legislation was to offer a true no-fault divorce option, then the law needs to be rewritten.
Huntington, NY (PRWEB) February 08, 2012
The Long Island divorce and family law firm of Wand, Powers & Goody, LLP recently won what is believed to be the first trial of a contested no-fault divorce in the state of New York since the no-fault option became law in 2010.
In the case of Sorrentino vs. Sorrentino, Case 13315/11, partner Jennifer Goody represented Gloria Sorrentino, who sought a divorce from her husband of 56 years based on the no-fault provision. According to Domestic Relations Law 170(7), the no-fault provision (NYLJ, July 6, 2010) can be used where "the relationship between husband and wife has broken down irretrievably for a period of at least six months, provided that one party has stated so under oath." The intent was to reduce lengthy litigation, yet despite this, Mr. Sorrentino was able to contest the divorce until it wound up going to trial before Acting Supreme Court Justice James F. Quinn in Suffolk County.
Pointing out the serious flaws in the no-fault legislation, Justice Quinn made the determination that New York's no-fault provision still enables the defendant to put forth a defense against a divorce. He reasoned that because the NY legislature retained all six other grounds for divorce when adding the no-fault option, that precedent cases had resulted in contradictory decisions regarding the need for trial, and that the specific circumstances of this case left an opening that prevented automatic granting of Ms. Sorrentino's divorce request.
However, the judge ultimately rejected Mr. Sorrentino's defense in Case 13315/11, Sorrentino vs. Sorrentino, as "without merit," based on evidence presented by Jennifer Goody on her client's behalf that the marriage was indeed irretrievably broken, and that it had been beyond redemption for well in excess of six months.
According to attorney Jennifer Goody, this case highlights that the no-fault statute enacted by the state of New York is far from perfect. She notes, "Clearly, there is still a burden on spouses to demonstrate grounds of some sort or else no divorce trial would be needed." While her firm is ultimately pleased with the decision made by Justice Quinn on behalf of Ms. Sorrentino, Jennifer Goody further states, "Clearly, there are different interpretations of the no-fault law based on the varied decisions by judges in other cases as to whether or not a trial is necessary. If the intention of the legislation was to offer a true no-fault divorce option, then the law needs to be rewritten."
About Wand, Powers & Goody, LLP
The attorneys of Wand, Powers & Goody take pride in resolving cases using expertise based on years of litigation, as well as settling cases through negotiation. While they believe divorce and family law cases should first be negotiated and hopefully settled for the benefit of all concerned, they are ready and willing to litigate in order to protect their client's rights and secure whatever their client is entitled to receive under New York law.
With over sixty years of collective legal experience, the Long Island divorce attorneys of Wand, Powers & Goody have handled all aspects of New York divorce and family law litigation, including:

Settlement negotiation
Motion practice
Hearings
Divorce trials
Appellate practice
They use that experience, together with an approach emphasizing creativity and diligence, to devise the most effective case strategy to meet client needs. The firm also offer divorce mediation, where Carl F. Wand, who pioneered divorce mediation in Long Island in the early 1990s. Their attorneys act as neutral mediators to assist couples in resolving their marital difficulties.
"Competence, experience and persistence you can trust." These words are not offered lightly. It is the basis of the firm's philosophy in representing its clientele.
If you are interested in speaking with a Wand, Powers & Goody attorney about your divorce or family law issue, please contact the firm at (631) 462-3434, or via email at legal(at)wandlaw(dot)com, in order to arrange a consultation.
###