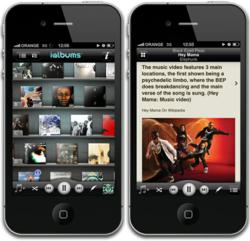 A music experience that takes you beyond the music, and back to a world where music is more than just an MP3 on your player- Gilad Voltsovitch, Co Founder and CEO.
Tel Aviv, Israel (PRWEB) February 29, 2012
iAlbums is the first major development in on-device music players since the launch of the iPod. A free application in the iPhone app store, iAlbums' patent pending "semantic engine" analyzes the music already existing on one's iPhone or iPod touch and gathers the most relevant and exciting information from over 20 different sources across the web. This content (videos, artwork, photos, artist quotes, lyrics, tweets and more) streams seamlessly into an easy to use feed on the user's player, providing an all encompassing music experience in an interactive app that enhances the existing music files in their mobile libraries.
"I remember when buying an album was much more than just listening to the music. It was the artwork, lyrics and a whole world to escape into," says Gilad Woltsovitch, co-founder of iAlbums. "As music lovers, that's what we're trying to create at iAlbums, a music experience that takes you beyond the music, and back to a world where music is more than just an MP3 on your player. We're excited about this "alpha" release and can't wait to roll-out the full version this summer."
"iAlbums is clearly a breakthrough for playing music on your iPhone or iPod," says Emily White, founder of Whitesmith Entertainment, a New York and Los Angeles based talent management firm. "For artists to become more than just a gray line of text on your playlist is huge. In this day and age, for fans to discover new content about the bands with whom they already have an emotional connection, where they tend to listen most – their iPod/iPhones – is a wonderful opportunity for musicians of all sizes and genres."
It is along these lines that iAlbums is collaborating directly with internationally acclaimed, NatGEO/Crammed Discs recording artists, Balkan Beat Box. In honor of their new album Give (to be released worldwide March 6th), iAlbums will feature a personalized, manually curated feed for the album, offering a digitized booklet, rare pictures, videos and other exclusive material. Other iAlbums artist partnerships are forthcoming, and will further showcase the application's technology by implementing a unique direct-to-fan content feed.
iAlbums is currently in its "alpha" version and is available in the App Store for the iPhone and iPod touch for free. The full version, including robust enhancements such as live show listings, audio streaming and more will launch in summer 2012, along with iAlbums for iPad and Android.
###