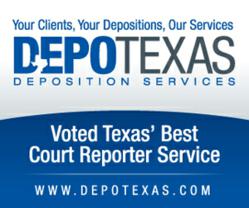 We are focused on ensuring that our organization and facilities are of the highest quality and capable of supporting future business
Houston, Texas (PRWEB) February 01, 2012
DepoTexas, the award winning court reporting firm announced continued expansion with the relocation of its corporate headquarters into a state-of-the-art office space in Houston, Texas. The new facility further expands DepoTexas footprint by more than doubling the previous space used by the Company. Conveniently located in the same office complex, the new headquarters will address an increase in demand for the Company's comprehensive portfolio of deposition and litigation support solutions.
"We are extremely excited about our Houston expansion. As our reputation for quality deposition services continues to grow, our need for more operations and meeting space is likewise expanding," said Michael Clepper, Chief Executive Officer of DepoTexas. "As a company we are focused on ensuring that our organization and facilities are of the highest quality and capable of supporting future business and our strengthening position in the court reporting industry."
Texas is among the top markets within the United States for court reporters with some of the largest numbers of leading law firms and corporate legal departments. The opening of the new corporate headquarters is the latest in a series of strategic expansion plans for DepoTexas. The Company also recently moved its Corpus Christi operations to a brand new facility and remodeled its Dallas office to accommodate growth in both markets.
About DepoTexas
Since 1987, DepoTexas has provided fast, accurate and reliable court reporting and legal video services to the legal community. As the leading privately held deposition and litigation services firm in Texas, the Company is headquartered in Houston with six additional fully staffed office locations throughout the state. The Company is known for its industry knowledge, technology leadership, and professionalism. Clients count on DepoTexas to help them better manage their caseloads and strengthen their productivity. DepoTexas was recently voted Texas' Best Court Reporting Service by Texas Lawyer Magazine readers. For more information, visit http://www.depotexas.com
Contact
DepoTexas
Andrea Abramson
888.893.3767
###