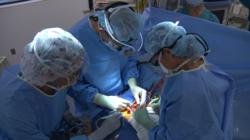 "If every local health care system could be as efficient as the low-spending communities
spotlighted in this film, we could finally afford to provide quality health care at a
reasonable cost for every American." -- T.R. Reid
Denver, CO (PRWEB) February 01, 2012
"U.S. Health Care: The Good News," an original one-hour documentary coming to PBS in February, takes an inside look at ordinary American communities doing something extraordinary: they provide first-rate medical care at reasonable cost – and in some cases, cover almost everybody in town.
These pioneering efforts stand in bright contrast to conventional wisdom about the U.S. health care system. The richest country in the world still leaves 50 million adults without health insurance. We spent more than $2.6 trillion on health care in 2011 – and all that spending isn't making us healthier. Yet some doctors and hospitals, T.R. Reid shows us, are taking bold measures to care for both the physical and fiscal health of their communities.
Reid was the correspondent for the acclaimed PBS documentary "Sick Around the World," which looked at successful health care systems in other industrialized democracies. "In this new film, we discover world-class health care at reasonable cost right here in the USA," says Reid.
The one-hour special goes national with a PBS feed to local stations February 16th at 9 p.m. EST. Viewers should check hometown PBS listings for exact time and date of their local broadcast.
The story begins in Mesa County, Colorado, the nation's lowest health care spending region, according to the Dartmouth Atlas of Health Care. And outcomes there are just as good as places that spend twice as much. In this community of nearly 150,000 people, Reid finds a finely tuned relationship among doctors, hospitals and insurers that places an emphasis on prevention, boasts a thriving pre-natal care program for poor women, and manages a more efficient electronic information exchange. All while extending health care to nearly all of its citizens at a fraction of the cost of high-spending regions.
Mesa County isn't alone in producing high-value health care. Reid takes viewers to other high-quality, low-cost health systems in cities and towns from coast to coast, including Seattle, Washington; Everett, Washington; and Hanover, New Hampshire.
Some experts estimate that we spend $700-800 billion annually on unnecessary care. "If every local health care system could be as efficient as the low-spending communities spotlighted in this film, we could finally afford to provide quality health care at a reasonable cost for every American," says Reid. And that, he notes, "is indeed good news."
"U.S. Health Care: The Good News" was produced by Photopia Productions LLC in cooperation with Rocky Mountain PBS. The program is supported by grants from The Colorado Health Foundation, The Commonwealth Fund, Caring for Colorado Foundation, The Bernard and Audre Rapoport Foundation, Public Welfare Foundation, The Bacon Family Foundation, and Colorado Office of Film, Television and Media.
Production Team
Journalist T.R. Reid, longtime foreign correspondent for "The Washington Post" and author of "The Healing of America: A Global Quest for Better, Cheaper and Fairer Health Care" (2009), is the program's writer, narrator and on-air correspondent.
Producer Lisa Hartman, president of Photopia Productions LLC, produced and directed NBC's "News for Kids," and multiple educational programs for K-12 teachers. She was a producer for "The Art of Teaching the Arts" for Annenberg Media. This is her first program for PBS.
Director of Photography Rich Lerner is a veteran cinematographer whose work can be seen in the Academy Award-winning documentary "A Story of Healing," multiple PBS documentaries, PBS's "Frontline" and the BBC series "Nature." He has been principal cameraman for several episodes of "NOVA" on PBS.
Editor Ted Winterburn has edited major offerings for PBS's "Frontline," "American Masters," plus numerous other high-profile programs.
Ed Stein, nationally syndicated editorial cartoonist, comic strip cartoonist, and writer, formerly with the "Rocky Mountain News," served as story consultant on the program.
Miriam Lewin, consulting producer, was series producer for several large-scale educational packages for Annenberg Media. Her most recent project is the radio series "Song of America," hosted by opera star Thomas Hampson.
###