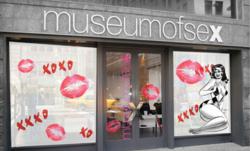 New York, NY (PRWEB) February 03, 2012
Each year, couples and singles alike flock to the Museum of Sex to celebrate Valentine's Day. This year, to enhance the celebration, the Museum of Sex will extend the opening hours and giving away sexy fortune cookies to all museum visitors as well as offering special ticket packages, drink specials and unique Valentine's Day gifts.
Extended Hours:
From Saturday, February 11th through Tuesday, February 14th, the museum will extend the opening hours from 10:00am until 10:00pm, with the last ticket sold each day at 9:15pm. Admission to the museum includes access to all exhibitions, including two recently opened exhibitions: Universe of Desire and F*ck Art.
"Screw Roses" Valentine's Day Sexy Ticket & Gift Packages:
Special admission & gift packages are available at the museum's online store and valid between February 11th - February 14th, 2012. You can choose from "Her & Her," "Him & Her," and "Him & Him" Screw Roses packages.
Screw Roses Her & Her Gift Package:
http://www.mosexstore.com/browse.cfm/her-her-screw-roses-kit/4,481.html
Screw Roses Him & Her Gift Package:
http://www.mosexstore.com/browse.cfm/him-her-screw-roses-kit/4,480.html
Screw Roses Him & Him Gift Package:
http://www.mosexstore.com/browse.cfm/him-him-screw-roses-kit/4,479.html
Each Screw Roses Kits contain the following:
2 Museum Admission Tickets
2 Drinks at OralFix Aphrodisiac Bar
1 Edible Heart Massage Candle
1 Three-Speed Vibrating Ring OR Vibrating Bullet
Packaged in a Satin Gift Bag, White Rose Petals & Ecstasy Lube Packets OR Boy Butter
$69.00
Sexy Valentine's Day Gifts
The products offered in the Mosex store and at the museum's online store, blur the distinctions between form and function and art and apparel, demonstrating how sex and sexuality have come to influence all facets of design. The museum store features an array of products that make perfect Valentine's Day gifts from sexy handcuffs to Kama Sutra oils, beautiful art books and a selection of fine toys.
http://www.mosexstore.com
OralFix Aphrodisiac Bar
Inside the OralFix Aphrodisiac Bar, guests can explore the world of aphrodisiacs and experience exotic flavors that excite and delight. In celebration of Valentine's Day, the OralFix Aphrodisiac Bar will be featuring the following specialty aphrodisiac cocktails: Get Laid (Mixed Berries, Basil and Ty Ku Sake), Spank Me (Bulldog Gin, Aperol, Roi Rene Rouge Cherry Liqueur) and My Slutty Valentine (Prosecco, Mathilde Raspberry, Royal Combier).
The food menu at the bar offers small plate sweets and savory nibbles of proven aphrodisiac foods to arouse the appetite for more.
http://www.oralfixbar.com
Exhibitions on Display
Universe of Desire
Type. Swipe. Search. Upload. Download. Post. Stream. These are the new verbs of desire. Our most intimate thoughts, fantasies, and urges are now transmitted via electronic devices to rapt audiences all over the world. These transmissions—from sexts to personal webcam feeds—are anonymous yet personal, individual yet collective, everywhere and nowhere, and they are contributing to the largest sexual record to date. In short, desire has gone viral. But what does this mean? And what does it reveal about us? This exhibition explores these very questions through a lens of digital experiences by examining what we are searching for, how we do it, and what we leave behind on these electronic devices. In piecing this together, we begin to expose staggering truths about who we are and how we interact in this ever-changing world of modern sexuality. Universe of Desire is an exhibition about human desire as seen through the lens of digital behaviors.
F*ck Art: A Street Occupation at the Museum of Sex
In response to the growing anti-institution sentiment pervasive in our culture, the Museum of Sex has engaged a group of select street artist to occupy the museum's third floor gallery. Expanding upon existing notions of the museum-going experience by pushing the boundaries of what artists create in a museum environment. Artist have mined the fringes of society and used the gallery space as a forum to create critical, provocative commentary around sexuality and its relationship to both human and cultural identity
The Sex Lives of Animals
This exhibition reveals sex is more than the drive to reproduce. The expanding knowledge of the natural world has revealed that animals participate in an astonishing array of sexual behaviors, where all conceivable sex acts and sexual partnerships exist. Animals engage in foreplay behaviors such as kissing, hugging, mutual and self-stimulation, oral sex and every kind of penetrative intercourse imaginable. Sex in the animal kingdom is just as complex and nuanced as it is for humans, and pleasure, it seems, is not restricted to the human realm.
After viewing the exhibits, guests can visit the museum store to discover unique Valentine's Day gifts and enjoy an aphrodisiac drink in the OralFix Bar.
About The Museum of Sex
The mission of the Museum of Sex is to preserve and present the history, evolution and cultural significance of human sexuality. In its exhibitions, programs and publications, the Museum of Sex is committed to opening discourse and exchange and to bringing to the public the best in current scholarship. The Museum's permanent collection of over 15,000 artifacts is comprised of works of art, photography, clothing and costumes, technological inventions and historical ephemera. Additionally, the museum houses both a research library as well as an extensive multimedia library, which includes 8mm, Super 8mm, 16mm, BETA, VHS and DVDs. From fine art to historical ephemera to film, the Museum of Sex preserves an ever-growing collection of sexually related objects that would otherwise be destroyed and discarded due to their sexual content. In a city that never sleeps, the Museum of Sex is constantly evolving and has no plans to slow down. http://www.museumofsex.com
For high resolution images and press questions please contact:
Jim O'Shea
212‐689‐6337 ext. 125
joshea(at)museumofsex(dot)com
###