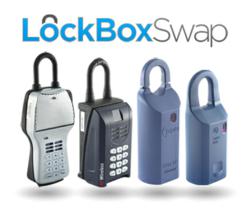 In just a few short months we have had REALTORS® from every corner of the United States using LockBoxSwap as a quick, simple, and convenient way to buy used lock boxes, including both Supra and SentriLock models
San Diego, CA (PRWEB) February 01, 2012
To help prepare for the expected upswing in the real estate market, LockBoxSwap remains the trusted marketplace for used real estate lock boxes. With new and existing home sales expected to increase 12% and 74% respectively from 2011, according to a recent report from Moody's Analytics, REALTORS® across the country are positioned to capitalize on a year that should be considerably more lucrative than the last.
"In just a few short months we have had REALTORS® from every corner of the United States using LockBoxSwap as a quick, simple, and convenient way to buy used lock boxes, including both Supra and SentriLock models," said LockBoxSwap Logistics Manager, Michael Fischer. "We truly believe every REALTOR® should be able to provide their clients with the security of an electronic lock box without breaking the bank or taking on the financial risk of an unregulated Internet transaction."
Recently granted "Accredited" status by the California Better Business Bureau, LockBoxSwap aims to uphold the trustworthiness and high ethical standards expected of BBB businesses. As Fischer says: "LockBoxSwap employs an exceptional full-time customer service team to assist Realtors with any questions or concerns whenever they buy a lock box from our site."
After a tumultuous past few years in the real estate industry, reputable sources like Moody's Analytics are projecting increases in both home building and home sales for the housing market in 2012. For U.S. real estate agents anticipating an influx of new listings this year, San Diego-based, Better Business Bureau Accredited, LockBoxSwap is here to help!
See what America's REALTORS® are raving about at LockBoxSwap -- and prepare yourself for what should be a great turnaround year for the American real estate industry.
With free shipping, deep discounts off retail prices, and a REALTOR® -managed team to assist you throughout the process, LockBoxSwap is the one-stop shop for all REALTORS'® Supra Lock Box and SentriLock Lock Box needs. No more hassle. No more haggling. No more leaving your office. Just a guaranteed realtor lock box delivered to your door. "Welcome Home REALTORS®"
To lock up your listing for less, go to http://www.LockBoxSwap.com. For large volume orders (20+ units) call Beau Katz, National Sales Manager, at (888) 835-2540.
###