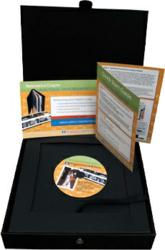 "Everyone I showed the kit to loved it…without exception, everyone I spoke to thought this was a great idea, they've never seen anything like it."
Palo Alto, CA (PRWEB) February 01, 2012
DigiLabsPro today announced: In a market survey conducted a few months ago, we have found some interesting findings:

A little over 80% of the couples plan to hire a professional photographer to shoot in the wedding; however,
About 35% of the brides who hire a pro wedding photographer will not buy an album from the professional photographer, stating price as the main reason.
Almost 80% of those brides which didn't order an album from the photographer still plan to create a printed output, but from a different lower cost source.
And 87% of brides thought that, "An album/photobook is the best way to preserve my wedding pictures for future generations."
Click to read full research doc about the changing wedding album market
"From our research it's pretty clear, a significant number of brides would be willing to pay for a premium album/book product, in a DIY model," states Bryan Passanisi from DigiLabsPro product marketing "and brides clearly see the difference between an album and a regular photo book, but the price for such a premium album product needs to be something between $250-450."
In order to address this market, and arm photographers with the tool needed to get a share of this market, DigiLabsPro has developed the concept/product of Client Creation.
Earlier this month, Jeff Fong, a Seattle based veteran photographer, took the Marina and Anza Classic Client Creation sample on the road to the 2012 Seattle wedding show. While showcasing the client creation, Jeff received plenty of positive feedback from his soon to be clientele. In an interview about the trade show, Jeff stated with much enthusiasm that:
"Everyone I showed the kit to loved it…without exception, everyone I spoke to thought this was a great idea, they've never seen anything like it."
"There are a lot of brides who have their wedding photos sitting on a disc, not doing anything with them… they want that medium that would allow them to create a high quality album."
"The market for this item is huge… whether it be soon to be brides or recently married brides."
"Other photographers didn't know that this kind of product existed"
Client Creations enables photographers to ride the wave instead of fighting it, and it's simple as 1, 2, 3…
Photographers buy a pre-paid album kit at wholesale price and sell it to the DIY bride at a retail price
The kit includes a black leather presentation box to store their album, a pre-paid flush mount album voucher, and instructions on how to create and redeem the album and lastly, free design photo software to create their album, which includes professional wedding album templates.
For full info: http://www.digilabspro.com/client-creations.shtml
Media Contacts
Anna Krebs
DigiLabs Pro
650-390-9749
press(at)digilabspro(dot)com
# # #