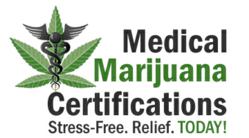 Arizona MMC offers patients walk in visits Wed thru Friday from 10am to 3pm.
Phoenix, AZ (PRWEB) February 01, 2012
Arizona MMC, which is the premier certification center providing Arizona Medical Marijuana doctors for evaluations, is now offering debilitated patients the options for walk in visits.
Patients who are suffering from any of the accepted conditions for Arizona medical marijuana cards can come in Wednesday through Friday between 10am and 3pm to see a licensed provider at the office.
According to the Arizona Department of Health Services, over 18,000 individuals have now received Arizona Medical Marijuana cards. Recently, the Governor of Arizona dropped the state's lawsuit against the Department of Justice, which then paved the way for full implementation of the Medical Marijuana Arizona Law.
Since the AZ lawsuit has been dropped, the state will now start accepting applications for Arizona medical marijuana dispensaries. This will make it substantially easier for patients who obtain medical marijuana cards to obtain cannabis to help with their conditions.
Without the dispensaries, medical marijuana in Arizona patients need to obtain their marijuana by either growing it themselves, obtaining it from a licensed caregiver, or from another card carrying patient.
The clinic is located at 6102 N 16th Street, Suite 17, and can be reached at (855) 294-3227 toll free. If desired, appointments can be made online as well through arizonammc.com.
Arizona MMC will help patients obtain their medical records for free, and the medical record release forms are available online. In addition, the clinic will help patients fill out the online application to the state and take photo ID pictures at no charge.
###