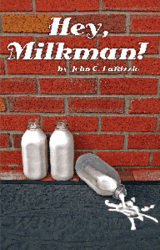 This casual memoir opens a window to the past for those who grew up with milk deliveries and offers the discovery of another era to those who didn't.
Pottsville, PA (PRWEB) February 01, 2012
In the summer of 1964, 14-year-old John LaRizzio begins working as a morning milk delivery boy, running products to customers' doorsteps and front porches. In return, this shy young man earns $10 per week and all the chocolate milk he can drink. It becomes his routine from 5 to 7 a.m. six days a week, 52 weeks a year, for the next five years. His memories of those years – and his insights years later – tell their own story in this new book from Dog Ear Publishing.
"Hey, Milkman!" features descriptions of the small Pennsylvania community where John lives, which has one bank, one traffic light, one state liquor store and one family-owned supermarket, as well as many mom and pop shops. Many of the shops sold Bear Creek Dairy products, stocked faithfully by John and his teenage companion. Delivering milk allows John to intimately know the neighborhoods and homes within them, the dogs he can trust and the gates that require an extra push to latch. Through good weather and bad, customers can count on their dairy delivery, and all the time outdoors nurtures John's love of nature.
This casual memoir opens a window to the past for those who grew up with milk deliveries and offers the discovery of another era to those who didn't. The book recalls what he learned during his "milkman mornings" and helps him rediscover his true self. The author's story flows easily, shedding light on a series of somewhat ordinary events rather than focusing on just his highs and lows, capturing his experience of growing up. As LaRizzio writes, "I've come to comprehend that we are the sum of our total lifetime's fortunes, not just of those brief, few days that we claim to be among our worst or our finest."
Author John LaRizzio served 35 years as a project engineer, engineering manager and director of engineering for a major U.S. corporation after graduating from Penn State University. He worked for five years as a milk deliveryman in his hometown of Nesquehoning, Pa., forming a bond with nature that continues to inspire his poetry and prose. "Hey, Milkman!" – his first book – also features some of LaRizzio's poetry.
For additional information, please visit http://www.WritingsByJohnL.com
Hey, Milkman!
John LaRizzio
Dog Ear Publishing
ISBN: 978-1-4575-0770-0 164 pages $12.95 US
Available at Ingram, Amazon.com, Barnes & Noble and fine bookstores everywhere.
About Dog Ear Publishing, LLC
Dog Ear Publishing offers completely customized self-publishing services for independent authors. We provide cost-effective, fast, and highly profitable services to publish and distribute independently published books. Our book publishing and distribution services reach worldwide. Dog Ear authors retain all rights and complete creative control throughout the entire self-publishing process. Self-publishing services are available globally at http://www.dogearpublishing.net
and from our offices in Indianapolis.
Dog Ear Publishing – self-publishing that actually makes sense.
###