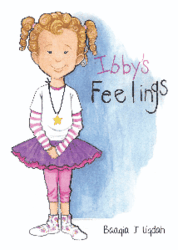 It's what she feels when her daddy gets mad and what happens when he does that sets this young girl apart from her peers.
EAST ORANGE, N.J. (PRWEB) February 02, 2012
This new release from Dog Ear Publishing tackles the serious subject of domestic violence in homes of young children. A 4-year-old girl serves as the heroine of this story, which is aimed at inspiring discussion after children see domestic violence.
Four-year-old Ibby is like most other preschoolers: She has a mom who takes her to preschool, lots of friends and loving grandparents. She also has typical emotions for a young girl, feeling pretty when wearing her grandmother's hat and feeling happy when she jumps in the leaves, notes this new book from Dog Ear Publishing. It's what she feels when her daddy gets mad and what happens when he does that sets this young girl apart from her peers.
"Ibby's Feelings," designed to be read out loud with young children, focuses on a young girl who sees domestic violence in her home; Ibby's father hits his wife hard enough to send her to the hospital. Once again, Ibby's feelings turn from happiness to fear and sadness. The author, who saw domestic violence herself when young, offers a story that paves the way for adults and children to talk about the shame, rage, fear and pain domestic violence brings, sometimes without warning.
The story, told in simple words, can help adults who work with children and help children to discuss their feelings. Ultimately, the book is a "cry for help from the young child who is witnessing and/or experiencing domestic violence, and the wounded child who lives within adults who witnessed or experienced domestic violence as children," the author writes.
Author Baaqia Uqdah spent more than 35 years caring for young children and educating them, including directing a child care center and training teachers. After retirement, she served as a domestic violence victims advocate. She is pursuing a domestic violence specialist certification in New Jersey, focusing on the impact of domestic violence on very young children. The book grew from her work with students expressing their feelings with language arts and her realization of the power of a children's book to teach adults.
----------
For additional information, please visit http://www.ibbysfeelings.com.
Ibby's Feelings
Baaqia Uqdah
Dog Ear Publishing
ISBN: 978-1-4575-0468-6 30 pages $14.95 US
Available at Ingram, Amazon.com, Barnes & Noble and fine bookstores everywhere.
About Dog Ear Publishing, LLC
Dog Ear Publishing offers completely customized self-publishing services for independent authors. We provide cost-effective, fast, and highly profitable services to publish and distribute independently published books. Our book publishing and distribution services reach worldwide. Dog Ear authors retain all rights and complete creative control throughout the entire self-publishing process. Self-publishing services are available globally at http://www.dogearpublishing.net
and from our offices in Indianapolis.
Dog Ear Publishing – self-publishing that actually makes sense.
###