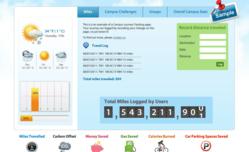 In the US, 53% of all four-year college students will have their bike stolen while attending university.
(PRWEB) February 06, 2012
RIDE Campus is the first web and mobile platform campus bicycle management and registration system designed specifically to work with college and university campuses.
The package integrates online administration, registration, bike tags, bicycle parking, fee-management, education, enforcement, journey tracking, security and communication in one platform.
Campuses are experiencing increased rates of stolen, abandoned and confiscated bikes while suffering from reduced resources and funding to maintain bike programs. The popularity of cycling has also created more pedestrian/bike conflicts and injuries.
College campuses are also under pressure to become more sustainable environments by reducing their carbon footprints and improving alternative transportation solutions.
Some campuses are now incorporating bike share programs or creating their own bike registration initiatives in an effort to address the situation. Unfortunately, many campus bike registration programs are ineffective and suffer from low take-up and high admin costs.
Cuts in federal funding and higher costs have made it difficult for campuses to find funds to deliver on these initiatives or improve their current bike infrastructure.
To better manage the problems created by the growing cycling communities, campuses are requiring students to register and pay a fee to bring their bikes on campus, and park in designated bike parks.
The RIDE Campus platform addresses these issues by providing universities with an integrated, online admin solution that delivers much-needed revenue to university coffers. Funds generated from bike fees help universities to develop improved bicycle infrastructure while reducing admin and personnel costs.
Campus safety departments benefit from more effective policing of bikes and fee-checking while the integrated anti-theft technology reduces bike theft and aids recovery by linking with Bike Shepherd, the global bicycle registration service.
"Bicycle theft is a big problem on college campuses", says David Bridges, spokesman for RIDE Campus. "One out of two college students will be a victim of bike theft while at university. "
Most bikes on campus are unregistered and therefore impossible to trace if stolen. The accepted rule of thumb is an unregistered bicycle has a 1-4% chance of recovery, registered bikes 10-20% and registered and tagged bikes 20-40%." he continues.
RIDE Campus helps universities keep their cycling communities informed on bike policy with integrated education and enforcement features. Campus safety departments can reduce confiscations and bike storage costs by using the RIDE Campus platform to notify students regarding bike policy infractions. Using hand-held devices they can check for unpaid fees and stolen bikes and communicate to the student immediately.
Students benefit from increased bike security, better bicycle infrastructure and higher rates of stolen bike recovery. In addition, bicycle data helps campus safety departments identify high-crime areas, journey bottlenecks and usage trends.
The bicycle management solution works with any existing bike parking furniture and is easily integrated with existing campus bike registration systems. It can also be applied to bike sharing programs, corporate campuses, gated neighbourhoods, municipal, county or state-wide bicycle registration initiatives.
RIDE Campus is delivered on web and mobile platforms, is accessible to admin and students alike and can be customised to each campus' needs.
The website provides an example of the functionality, features and data reports available to campuses. The service is menu driven, with three packages to choose from – Bronze, Silver & Gold. For more information on RIDE Campus, contact us at campus(at)ridecampus(dot)com.
# # #