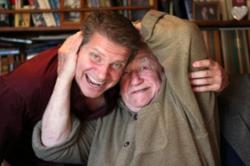 There is no drama that you should not look at where you can get the laugh.
Los Angeles, CA (PRWEB) February 13, 2012
Veteran actor, Ed Asner shares with Actors Reporter his realizations as a young actor, some of the acting insights he gained as a seasoned actor, and the importance of being prepared. Mr. Asner recounts his experience during times of controversy, his political activism, and his two terms as SAG president. Ed Asner discusses his inspirations, upcoming projects, and a highly anticipated collaborative project with long-time friend Betty White. Ed Asner delivers a message to the young actors out there and his own, personal formula for success.
Ed Asner is currently touring the country in the 3rd year of his one-man show FDR. And, is set to reunite with Betty White on the sitcom Hot In Cleveland to air in the Spring. Also, interestingly, Ed will reprise his role on Hawaii Five-0 from 25 years ago.
###