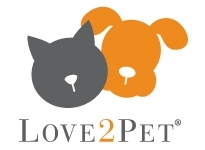 The new Love2Pet.com pet store has features that enhances the shopping experience.
Tustin, CA (PRWEB) February 01, 2012
Love2Pet®, a manufacturer and distributor of specialty pet products, has launched a new web store at http://www.love2pet.com with new features designed to give consumers a better shopping experience.
"We looked at the many ways shopping on the Internet has evolved in terms of site graphics and interactivity," said Leon Rosen, president of SWE, Inc. which owns Love2Pet. "Our new site has many tools, including social media, gift certificates and wish lists that make it easier for consumers to bring our many quality pet products into their homes. For example, each product page now features Facebook and Twitter capability so pet lovers can instantly share information about Love2Pet products with their friends!"
Love2Pet products are sold nationwide at over 5,000 specialty pet stores as well as through distributors.
Products on the website include:
The Love2Pet Multi-Purpose Grooming Tool which includes both a rake and de-shedding comb, designed for both dogs and cats
Love2Pet "Playable/Plyable" soft discs for dogs
Love2Pet "Snip 'n Clip" professional grooming scissors
Love2Pet "No Dirty Ears" ear wash for dogs
Love2Pet "My Paws" healing salve, formulated with all natural ingredients
Love2Pet "Knot Green functional dental bones for dogs
The Love2Pet Nail Grooming Tool for dogs and cats
Love2Pet Eco-Friendly Pet Carriers which are made from recycled products and are the first "green" pet carrier on the market (they also come in orange, blue and pink)
Consumers who visit the site can sign up to receive special money-saving offers on Love2Pet products.
Retailers interested in selling Love2Pet products can contact Sandra Paniagua, Retail Sales, at (800) 336-1968 x 13.
# # #