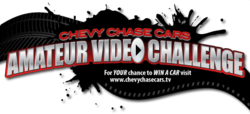 Bethesda, MD (PRWEB) February 02, 2012
The Chevy Chase Cars Amateur Video Challenge kicks off on January 27th at the 2012 Washington Auto Show at the DC Convention Center. For ten days more than 100 thousand visitors will view the commercial on over 20 flat screen TVs throughout the Convention Center, on local station WJLA TV 7 and Comcast Sports Net.
Here's how it works - contestants will create a 30-second video touting the benefits of any department of Chevy Chase Cars - Service, New Car Sales, Parts, Acura or Nissan. And then, after registering at either the Chevy Chase Cars Nissan Facebook Page at http://www.facebook.com/chevychasenissan or the Chevy Chase Cars Acura Facebook Page at http://www.facebook.com/chevychaseacura, they will upload their video to enter the contest. The public and a selection of judges will then have a chance to vote for their favorite video.
Over the course of the year, the contest will name six semifinalists. On 12/12/12, Chevy Chase Cars will announce the grand prize winner.
Semifinal videos will be posted on Chevy Chase Cars' YouTube channels. http://www.youtube.com/chevychasecars
Local celebrities and news coverage will help promote the Amateur Video Challenge. Visual Alliance Media will support social media promotion via Facebook and Twitter.
The contest will make use of new technology with promotional T-shirts and posters that feature a QR code that will send people to the contest website at http://www.chevychasecars.tv which provides details about the video challenge.
Chevy Chase Cars sells Nissan and Acura cars and has been a family owned business for 72 years. It is conveniently located just two miles from the Washington, D.C., line, two miles from the Beltway, and three blocks from the Metro. Chevy Chase Cars provides a Lifetime Luxury package of a car wash, loaner car, and oil change for its customers. Check out contest rules on the web at http://www.chevychasecars.tv
Contact- David Schuster, Digital Marketing Specialist social(dot)media(at)chevychasecars(dot)com
###