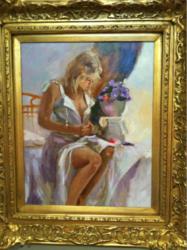 "Beauty breathes life into those who witness it, but it heals those who feel it." Dr. Anthony C. Billings
(PRWEB) February 13, 2012
Retired Neurosurgeon, Anthony C Billings, husband of Dawn Billings, CEO and Founder of The Heart Link Women's Network with over 200 women networking locations in the U.S., Canada and Australia, paints to help women recovering from breast cancer.
Dr. Billings has loved his hobby of painting for many years, but when he realized that he could help raise money for survivors of breast cancer to restore life and color and add the finishing touch to their full and complete restoration, he chose to donate paintings of beautiful women to be raffled off to raise money for Bridging the Gap Between Breast Cancer and Beauty, founded by Rachell Hall.
"At the Rachell Hall Breasthetics Clinic, we lovingly walk women through the final reconstructive procedure of Breasthetics. We not only focus on the exterior beauty of a woman, but we also help women heal by understanding the psychological effects that women experience after their arduous battles with breast cancer. We not only restore the beauty of the breast, we also give hope to our patient/clients," states Rachell Hall. "Through the medical treatment of cancer, women also suffer the loss of their eyebrows and eyelashes. This is embarrassing and becomes an issue of discomfort for the patients/clients, so we also offer services to help cancer patients feel beautiful again."
"Complete Breasthetic recovery for every woman is our goal and our expertise at The Rachell Hall Breasthetics Clinic and The Breasthetics Institute of America™. "Breasthetics" is defined as the unity of science, technique and aesthetics in restoring the natural appearance of the breast after mastectomy surgery by completing the reconstruction process," says Hall.
"As a surgeon, I understand that women need positive and empowering information and assurance when they are diagnosed with a life threatening disease, and they are frightened of the results after surgery. My wife is also the daughter of an amazing woman who lost her breast. I understand all too well what it means to have a completed reconstruction so that a woman doesn't feel deformed," stated Dr. Billings. "When I realized I could create something beautiful and bring hope and comfort to women who are also beautiful and deserve to feel that way especially after reconstructive surgery, I had to collaborate to help in some way. I am proud to be associated with this very important foundation and continue to help in any way I can."
###