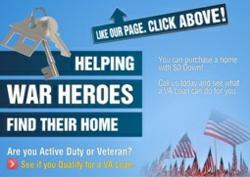 FL, TX, CO, OK, AR, NC, CA (PRWEB) February 03, 2012
Security America Mortgage, Inc. put a high value on the happiness of all American Veteran and Military War Heroes. Recently, the company launched an additional "VA Loans" website for Florida Veterans (only) buying a home. These changes were done to reflect more location specific challenges coming this year. With a proactive and supporting role, Security America Mortgage, Inc. announced the 2012 calculation changes to all of their connected military members in Florida as well as launching new location websites that support the need to spread the word to all military service members about how the VA Purchase in Florida will be affected.
For example, as of January 1, 2012, the Department of Veteran Affairs changed a few of their standards for how calculations can be made to VA loans by lenders, which are the methods used to calculate the VA loan maximum amounts/minimum amounts. But what will these changes really mean for veterans and active duty military members who are ready to buy a home using a VA Loan in Florida? It means that Veterans buying a home in cities like Miami, Orlando, and Tampa will need to re-learn what to expect (and how much they can receive) from their VA Home Loan.
The VA Home Loan experts take a unique approach to showing how much better VA Loan amounts will be in the year going forward by reminding military members how easy buying a home can be with simplified examples of the VA Loan Process and VA Refinance.
The good news is that the loan amounts are funded by lenders, like Security America Mortgage, Inc., and the amounts are all calculated by the mortgage company – not the VA. The VA only insures the VA guaranty loan up to a certain amount – which is kind of like a "promise" to the lender to pay a home loan for a veteran if they ever default on a loan for any reason. For expert mortgage companies like Security America Mortgage, Inc., who specialize in VA loan and Real Estate services for Florida home buyers, they can still offer VA loans that provide the lowest rates possible in 2012. Since the 2012 VA loan calculations do not alter the great VA benefits, VA loans can still be obtained by eligible members in order to:
1. Purchase or build a new home
2. Purchase a residential condominium unit
3. Purchase a residential cooperative housing unit
4. Repair, alter, or improve a residence owned by the veteran and occupied as a home
5. Refinance an existing VA or conventional home loan
6. Buy a manufactured home and/or lot
7. Install a solar heating or cooling system or other energy-efficient improvements
The 2012 calculations also make it easier for Security America Mortgage, Inc. provide better Florida VA loan services to pre-approve VA home and refinance loans for military members buying a home in Florida cities like Miami, Orlando, and Tampa. In fact, there are actually the three different VA Refinance options available for military individuals who want to save money by lowering monthly mortgage payments significantly.
The Florida VA Refinance Loan options are as follows: VA Loan Refinance Option #1 - VA Streamline Refinance - Interest Rate Reduction Loan (IRRL), VA Loan Refinance Option #2 – "Cash-Out" or Debt Consolidation Refinance, VA Loan Refinance Option #3 - Conventional to VA Refinance Loan.
Get Started with a VA home loan benefit with Security America Mortgage Experts.
###