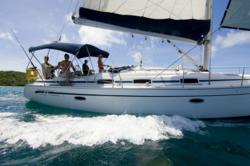 Sailing is a platform for adventure and discovery," says Nautilus Sailing.
(PRWEB) February 06, 2012
With over 300 ASA sailing schools worldwide to help dreamers embark on their sailing dreams, there are a wealth of courses and ways to learn how to sail. Every year, the American Sailing Association, recognizes the top 20 sailing schools, with the prestigious Oustanding Sailing School award. For 2011, Nautilus Sailing was recognized as one of the best sailing schools in their worldwide network.
In recent years, the trend in learning how to sail, has shifted to liveaboard sailing courses. These unique courses, offered in charter destinations around the world, allow participants to have a learning vacation. Students spend a week living aboard a beautiful sailing yacht, learning the fundamentals of sailing, and exploring a tropical destination. "For our liveaboard courses" says Nautilus Sailing Lead Instructor Tim Geisler, "we love to get off the beaten track. Our favorite destinations for courses are the Grenadines and the Sea of Cortez". Students can expect to spend their week aboard gaining the skills, experience and certification, that will allow them to venture off on their own sailing adventures.
With the wealth of sailing schools, destinations and courses out there, how does one choose? The American Sailing Association, the recognized industry leader, has a long history of sailing education with over 800,000 certifications granted to date. They are a great place to start. Here are 5 tips for choosing a sailing school and course to help you embark on your sailing adventure.
Mark Twain said, ""Twenty years from now you will be more disappointed by the things that you didn't do than by the ones you did do. So throw off the bowlines. Sail away from the safe harbor. Catch the trade winds in your sails. Explore. Dream. Discover." Perhaps now is the time to embark…
###