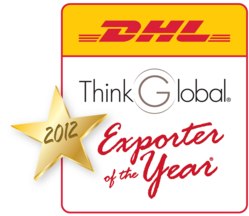 Exporting is a critical part of the U.S. economy...
Sanford, Fl (PRWEB) February 07, 2012
Hernon Manufacturing, the innovator in adhesive and sealing technologies, has been awarded the 2012 ThinkGlobal Exporter of the Year Award in the Materials category.
"This year's winners reflect the diversity of American exporters, 97 percent of whom are small- to medium-sized enterprises," said Gregory Sandler, president of ThinkGlobal.
Each year, ThinkGlobal Inc., the publisher of Commercial News USA and manager of the USA Export Expo, presents top companies with their Exporter of the Year Award to recognize the export success of American businesses.
"Exporting is a critical part of the U.S. economy, accounting for 12.5 percent of the nation's GDP. For many American manufacturers, new job creation is the direct result of export success. Moreover, 70 percent of the world's purchasing power is located outside of the United States," continued Sandler.
Winning companies outperformed others in their total number of documented export transactions; the total percentage increase in sales; exports as a percentage of total sales; and their commitment to exporting, customer service, innovation and originality in marketing products or services. To be eligible for the award, a company must be a current U.S. exporter.
"It is an honor to have received this award," said Harry Arnon, President of Hernon Manufacturing. "We continually strive to exceed customer expectations in every facet of our business. So, it is fantastic to be recognized as a American business leader in material exports as well."
The awards, presented to one U.S. company in each of 13 industry categories include: Health & Beauty/Fashion; Safety & Security; Hotel & Restaurant Equipment/Food/Food Processing; Electrical/Electronics; Materials; Building/Construction/Hardware; Business Services; Medical/Scientific Products & Equipment; Agriculture; Environmental; Industrial Equipment, Services, & Supplies; Automotive/Aviation/Marine; and Consumer Goods.
# # #