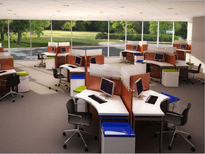 Your Office Agent are a new global breed of commercial advisor who offer real office space advice rather than just square feet.
(PRWEB) February 06, 2012
Agile working specialists, Your Office Agent, are changing the commercial office lease business for good as clients insist on agile working advice rather than putting all their staff into one size fits all, 3 or 5 year traditional leases . Their new expansion keeps the focus on offering clients flexible internal and outsourced solutions such as mobile or home working options along with a global online database of 2,000 managed office properties, executive suites and coworking spaces. They have become the voice of authority in workplace planning and global office search for companies of all sizes. Their continuing no fee policy for all forms of global property search has no doubt helped their recent expansion from New York into Santa Monica, Miami, Orange County, Austin and Phoenix.
For those companies who feel that the advice they previously got for office space was totally misaligned with their business plan, help has arrived. The agile workplace experts, Your Office Agent, have now expanded into California, Florida, Texas and Phoenix in as many weeks with some very unconventional but popular advice. VP of Sales for Your Office Agent, Brian Mac Mahon believes that, for the last 50 years, the advice from many commercial real estate professionals has not changed and those companies who need business specific guidance the most are given a very basic, one size fits all, short sighted road map. Unfortunately, when the inevitable change happens in their business, tenants find that they are totally mismatched with the facilities arrangement they have been given. At that stage they are told that its the price of doing business and they become landlords who make a loss by subleasing the very space that they thought was going to be theirs. The frustrating thing is that this was not necessary with some foresight.
Although many elements of the current recession were unavoidable, the glut of sublease space that suddenly became available overnight was very much avoidable. Unfortunately the same mistakes continue to be made and not learned from and the mission of Your Office Agent is to change this space at all costs mentality by educating customers locally one state at a time. Their methodology is to predict facility challenges by understanding what the perfect end result looks like and then map to it. That perfect end result is the ideal office, where the facilities plan gets built around the company business plan rather than having them acting independently.
To find the definition of the ideal office clients of Your Office Agent consulted with best selling author and psychologist, Silvia Olmedo, who concluded that it is less of a fixed location than a state of mind. It is the linking of people, process, property and technology into one vision. For the team at Your Office Agent the current rapid US and global expansion is going to provide high level consultants on the ground in each State with a mission to match this Ideal office with each new client. For them the ideal Office is where maximum employee efficiency meets perfect work life balance, simple as that. If companies get it right with the people who will use the space then everything else follows suit. When asked what makes Your office Agent truly different from any other facility advisory or office search service Brian Mac Mahon was quick to point out that there are no other workspace curators out there trying to build the ideal office for small, medium or large sized companies and that makes it all the more exciting.
For help in building your ideal office or finding managed office space anywhere in the world contact the team at contact(at)yourofficeagent(dot)com or 800 600 0881 or look on their site, http://www.yourofficeagent.com
###