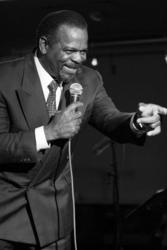 "Bearde teases the listeners with his aural foreplay and romantic verse, says Soukie West - The Journal - London, England
Oakland, CA (PRWEB) February 02, 2012
The buttery baritone of Jazz Recording Artist, Nicolas Bearde, combines with the lyrical prose of author Jacqueline Luckett for a fabulous night of "Funk and Fiction" at the Uptown Body and Fender - a place to be and be seen on the East Bay social circuit..
Nicolas Bearde
http://www.nicolasbearde.com
Nicolas was born in Nashville, Tennessee, the second of seven children and took to music as a sanctuary. For the past 20 years, he has delighted audiences with his vocal acrobatics as a member of Bobby McFerrins' renowned A capella choral ensemble, "Voicestra", while carving out his own solo career. Nicolas seamlessly blends musical genres, fusing jazz, blues and soul, and his big velvet tone has thrilled audiences around the world with his soulful interpretations.
In 1997, Nicolas formed his own label, Right Groove Records, in order to launch his solo projects, and has released 3 widely acclaimed CD's, "Crossing the Line", "All About Love" and Live at Yoshi's - A Salute to Lou" ( a tribute to Lou Rawls), on that imprint.
Bearde also maintains a busy sideline as an educator, actor and voice-over artist and has compiled an impressive list of credits that includes film roles in True Crimes with Clint Eastwood, Final Analysis with Richard Gere and Kim Basinger, and roles on the television series Nash Bridges and Monk.
Jacqueline Luckett
http://www.jacquelineluckett.com
As a teenager, Jacqueline enjoyed telling stories to her younger cousins. To this day, they describe her as a master storyteller. So, it wasn't a surprise to her family when she began writing. An avid reader and lover of books, Jacqueline is an excellent cook, aspiring photographer, and world traveler. She lives in Oakland and, though she loves all of the friends there, she takes frequent breaks to fly off to foreign destinations.
Good Housekeeping selected Jacqueline's latest novel, PASSING LOVE as a February Book Pick. Jacqueline is also the author of SEARCHING FOR TINA TURNER.
People Magazine, " Beautifully written and filled with vibrant scenes of Paris in it's Jazz Age and today, Luckett's PASSIVE LOVE is a treat"
FUNK & FICTION
Saturday, February 25th, 2012 - 730pm - 1030pm
Uptown Body and Fender
401 - 26th St, (between Broadway and Telegraph), Oakland, CA 94610
Tickets: $25 at: https://www.brownpapertickets.com/user/eventstatus/224658
THE UPTOWN
Musicians and artists have found a new home at the Uptown Body and Fender, a woman-owned body shop by day, that morphs into a sleek and stylish venue for special events, by night. The Uptown is a superb body shop, and has become an unexpectedly popular site for film screenings, art shows, fundraisers and special events.
CONTACT:
Darlene Miller
Media and Information
Nic Nac Music
darlene(at)nicolasbearde(dot)com
510-547-8400
# # #