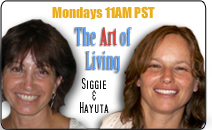 You cannot begin to face your fear of death until you know what really matters about life.
Silverthorne, CO (PRWEB) February 06, 2012
LA Talk Radio hosted Dr. Karen Wyatt on their online radio broadcast "The Art of Living with Siggie and Hayuta" on Monday January 16, 2012. The Art of Living program presents discussions on all aspects of life, but co-hosts Siggie and Hayuta are especially interested in helping their listeners get through the struggles and difficulties of day-to-day existence. For this interview they focused on the end-of-life, tapping into the wisdom of Dr. Wyatt's years of experience as a hospice physician.
Dr. Karen Wyatt understands the process of dying and the emotional and spiritual challenges it poses better than most people. After 25 years of medical practice as a hospice and family physician she has accompanied countless patients and families through this final passage and has learned valuable guidance about the journey of life from that perspective.
Her book "What Really Matters: 7 Lessons for Living from the Stories of the Dying " tells the stories of several patients and their families as they approached death and details the life lessons that were learned through that process. In addition the book provides a discussion about those lessons and how every reader can apply them to their own lives and find new meaning and purpose in their existence.
During the interview on The Art of Living, Siggie and Hayuta wanted to know how Dr. Wyatt came to do hospice work, when she first realized that there were many interesting life lessons to be learned from the dying, and how she interacted with families who struggled with difficult issues. The hosts recommended Dr. Wyatt's book to their listeners as an excellent means of preparing for the spiritual questions that inevitably arise at the end-of-life.
Listen on demand or download a podcast of this inspirational interview on LA Talk Radio: The Art of Living with Siggie and Hayuta at http://www.latalkradio.com/Living.php
###