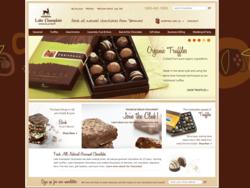 The new site is performing well beyond our expectations," said Jim Lampman, founder and owner of Lake Champlain Chocolates.
Ann Arbor, MI (PRWEB) February 01, 2012
Grand River, a leading e-commerce developer, today announced that the new online store they created for Lake Champlain Chocolates delivered record-setting Cyber Monday 2011 sales results. The chocolate manufacturer, based in Vermont, produces high quality, all-natural, gourmet chocolates. Their products are sold at company stores in Vermont, nationwide at specialty food and gift stores such as Whole Foods Market, and on the new website at http://www.lakechamplainchocolates.com.
Lake Champlain Chocolates' conversion on Monday, November 28, 2011, or Cyber Monday, reached 16.44% – more than twice their conversion rate on the same shopping day in 2010. After Grand River launched the new site, Lake Champlain Chocolates experienced record sales, conversion, and average order size.
"The new site is performing well beyond our expectations," said Jim Lampman, founder and owner of Lake Champlain Chocolates. "Grand River is a true partner with an understanding of our unique brand and company goals, and they created an online store that has now proven to be a vital part of our overall business."
Average conversion, following the launch of the re-branded site, reached 8.75%. Measured on Cyber Monday, both conversion and revenue were up, with conversion at 16.44%. The new site delivered double the per-visit value of the previous year, and average order size was up approximately 20% over 2010.
On Cyber Monday 2011, Lake Champlain Chocolates offered shoppers a flat $5.00 shipping fee on all orders, rather than deep product discounts. That offer, plus the redesigned features and functionality of the new website, drove double-digit increases in conversion and order value.
"The new site is a better reflection of Lake Champlain Chocolates' premium brand and delivers an extraordinary, upscale shopping experience to their customers," said Scott Robertson, partner and co-founder of Grand River. "We redesigned the site to improve the navigation, make it more intuitive, and enhance the browse and shop experience. It's now a beautiful showcase for their brand's unique story and communicates the true value and quality of their products. We are thrilled that the site's performance and conversion results are so strong and are very proud of what we have accomplished together."
As a result of the strength of the new site's performance, Grand River is expanding their partnership with Lake Champlain Chocolates, providing strategic e-commerce consulting in addition to web hosting, ongoing site enhancements, and maintenance services for the retailer.
About Lake Champlain Chocolates
Lake Champlain Chocolates offers sweet indulgences that capture the essence of Vermont, the tradition of making fine chocolate, and the pride that goes into each bite. Preservative-free and kosher-certified, the chocolates are crafted in small batches from the finest quality chocolate and select natural ingredients including local Vermont cream, cultured butter, maple syrup, and honey. Lake Champlain Chocolates are available at three company-owned retail stores in Vermont, nationwide at specialty food and gift stores, at upscale hotels and inns, and online at http://www.lakechamplainchocolates.com. Visit the website or call 800.465.5909 to learn more.
About Grand River
Grand River is an industry leading e-commerce design and development company, specializing in solutions for mid-market retailers and multichannel companies. The firm's core expertise is in the leading open-source e-commerce platforms, including Magento™ Enterprise. Clients include many of the Internet Retailer Top 500 firms in retail, healthcare, technology, telecom, and publishing. In 2011, the company was named among Michigan's "50 Companies To Watch," honoring second-stage firms that demonstrate high performance and innovation. Founded in 2007, Grand River has offices in Ann Arbor, Michigan, and Chicago, Illinois. Call 734.913.8000 or visit http://www.thegrandriver.com to learn more.
###