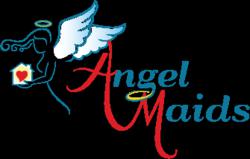 Working hard and giving 110% in everything I do comes natural for me. I handle all the business management and oversee all the office personnel. I enjoy getting to know new people and try to help others in any way I can. - Stacy Denson, Business Manager
Nashville, Tennessee (PRWEB) February 01, 2012
Angel Maids, one of Nashville's most respected house cleaning services, has today announced expanded services available to their customers, as well as winter specials for dramatic savings on professional cleaning services.
Angel Maids has earned a reputation for providing the most value and best professional maid service, and the company has now expanded. Angle Maids brought Domestic Angels cleaning service into their company, re-branding the other firm with the Angel Maids name. This provided Domestic Angels with new ownership, and allowed Angel Maids to expand the services on offer.
In addition, Angel Maids is now offering their customers dramatic winter specials on cleaning. Currently, customers can take advantage of a 4-hour special for $124.90 or a 5-hour special for $149.90. These specials provide their customers top quality house cleaning in Nashville, Franklin, Antioch, Bellevue, Hendersonville and other surrounding areas with access to the highest quality maid service possible.
Angel Maids has built their reputation on quality, ethical service. The company is licensed, bonded and ensured for customer peace of mind, and they are also a locally owned and operated firm. According to James Denson, owner of Angel Maids, "Our goal with every cleaning is to provide top notch affordable house cleaning services. Our slogan is 'Cleaning Houses, Blessing Homes'. That's what we do every time. The Angel Maids way."
In addition, Angel Maids offers customized cleaning services, including kitchens, bedrooms, bathrooms, living areas and more. Other services available can include dishes, laundry, ironing and more. They offer a fully customized maid service and are not limited to traditional cleaning services alone.
Stacy Denson, Business Manager of Angel Maids, says, "Working hard and giving 110% in everything I do comes natural for me. I handle all the business management and oversee all the office personnel. I enjoy getting to know new people and try to help others in any way I can. Helping people is at the heart of all my business activities."
To find out more about the winter specials on offer from Angel Maids or to learn more about the cleaning services they can provide, visit http://www.AngelMaids.net.
About Angel Maids
Angel Maids is one of the leading Nashville maid services. Locally owned and operated, our "Angel" services are customized to fit your personal house cleaning and housekeeping needs. We are located at 4976 Shihmen Drive, Antioch, TN 37013.
###