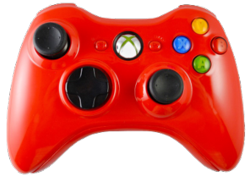 (PRWEB) February 02, 2012
The Xbox 360 has become one of the most popular gaming platforms in the world, but many hardcore gamers are looking for a little more than the basic box provides. Replacing the controllers that come standard with the Xbox is one way gamers can make a statement and get more fun and excitement out of every game they play.
That is why Modzlab is so proud to introduce its new line of glossy controllers designed specifically for the Xbox. These controllers are very shiny and beautiful, much more attractive than the standard controllers that come with the gaming system.
This line of glossy controllers is designed for those gamers who want to customize their experience, and what better what to customize your gaming console than with a brand new controller? Whether you are playing by yourself or with a group of friends, you are sure to get more out of your game play with these specialty controllers. Gamers will certainly be impressed when they see them, and they will no doubt ask where you got such impressive gear.
The new line of glossy Xbox modded controllers by Modzlab allow gamers to customize their game consoles in a number of different ways. Gamers can choose from a variety of controllers in bright shiny colors, and they can customize their consoles further with a vast selection of D-pads, triggers and bumpers, as well as a large number of Guide and ABXY button choices.
Modzlab specializes in all things Xbox, and the company caters to gamers who want to get more out of their gaming experience. Modzlab is an online store that specializes in providing customers with a wide variety of unique and custom order goods. Unlike many other online outlets, Modzlab is proud to carry only the finest and highest quality gaming accessories, including Xbox controllers you will be proud to show off to your friends. Modzlab specializes in providing the best hi-tech gear to its customers, and the new line of glossy Xbox controllers is one more example of that commitment to quality.
# # #