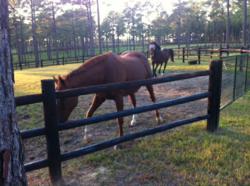 If our property sells for $1, it goes for $1
Lake Tahoe, NV (PRWEB) February 06, 2012
Exclusively Auctions states, "Some high-end properties appeal to golf enthusiasts. Other luxury properties are tailored to the equestrian. And still others are designed for gourmands who enjoy entertaining or those who want seclusion and a nature retreat. Seldom do these attributes come together in one property, yet a sprawling farm estate up for grabs in North Carolina provides all this and more."
The property, encompassing 30 acres and valued at $4 million-plus, goes up for auction on Feb. 16 by Exclusively Auctions. The farm complex contains two parcels: an 11-acre farm that is contiguous to a 20-acre property inside the acreage. These properties have separate parcel numbers and will be offered both separately and combined at auction. The highest aggregate price will determine the selling price on the day of the live auction.
"This property is free and clear, with no debt whatsoever," said Nicholas Varzos, president of Exclusively Auctions. "It's a rare occurrence in the real estate industry."
What makes this sale even more unique, said Varzos, is that the transaction is an absolute auction, not a reserve auction. This means there is no safety net for the seller. The property will be sold to the highest bidder, period. "If our property sells for $1, it goes for $1," he said.
Varzos noted that whether the property sells for dollars or millions of dollars, "in today's market, the owner will undoubtedly sell at a loss. Everything is of the highest caliber here. The owner spared no expense."
A rundown of the property's highlights illustrates the owner's extraordinary attention to detail. A 5,000-square-foot principal residence features:

Solid copper bath tub
Cuppolas and triple crown molding
Slate roofs and outdoor decking
8' elevator shaft
1800-sq-ft master suite
Four-car oversized garage
The property also houses a two-bedroom, two-bath guest cottage with private gated property entrance with electric gate; an eight-stall barn with heaters, fans, rubber mat flooring and cross ventilation in each stall; 11 barn rooms; a barn trainer's apartment; a world-class riding and training area with 8" clay base; and a wealth of outdoor aesthetics and amenities, including 10 grass pastures, five sand paddocks and two spring-fed ponds.
"Did I mention that the farm is a five-minute drive to Pinehurst?" Varzos concluded. "It's a golfer's paradise. Pinehurst is home to 43 of the finest North Carolina golf courses and will host the U.S. Open in 2014."
For more information, call Exclusively Auctions at 1-916-826-7310.
Media contact:
Nicholas Varzos
Exclusively Auctions, Inc.
916-826-7310
tvarzos(at)gmail(dot)com
###