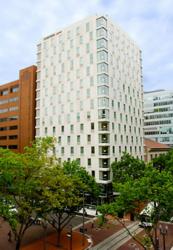 "We greatly appreciate this Gold certification from Portland's Sustainability at Work program, we strive to be a leader in the hospitality industry when it comes to green initiatives," Cheri Hanson, Director of Sales for the Courtyard Portland City Center
Denver, Colorado (PRWEB) February 01, 2012
The Courtyard by Marriott Portland City Center, located on 550 SW Oak Street, has been certified as Gold by the Sustainability at Work initiative from the Portland Office of Sustainable Development. This certification is the highest available award offered by the program.
The three levels of certification are bronze, silver and gold, each recognizes businesses that are reducing their impact on the planet as well as award businesses that have gone above and beyond. Each business has to complete an extensive checklist under the topics of:

Information and education
Materials and waste
Energy
Social Impact
Transportation
Water
"We greatly appreciate this Gold certification from Portland's Sustainability at Work program, we strive to be a leader in the hospitality industry when it comes to green initiatives," Cheri Hanson, Director of Sales for the Courtyard Portland City Center. "We make sure to set high goals for sustainability for our housekeeping practices, meetings and events and the hotel in its entirety."
The Courtyard Portland City Center is one of Portland's greenest hotels, the first Gold LEED-certified hotel in the Pacific Northwest, and one of only 15 in the entire country. The hotel is reducing its carbon footprint by using 28% less energy than normally used in a conventional building (equivalent to 42 households per year). Only 23% of waste leaves the building while 77% is composted or recycled. Other green attributes this award recognizes within the hotel is its sustainable efforts in information and education, materials and waste, energy, social impact, transportation and water.
About the Courtyard by Marriott Portland City Center:
Hip, cool and a truly authentic Portland experience, Courtyard by Marriott Portland City Center provides a boutique hotel experience in the Downtown Portland landscape. Courtyard by Marriott Portland City Center also has the amenities seasoned business travelers come to expect with plush bedding, complimentary Wifi and well-appointed rooms with spectacular downtown views. The 256-room hotel features 5,300 square feet of professional meeting space perfect for private parties, board meetings or events in need of a creative touch. For more information call (503) 505-5000 or visit http://www.myfavoritecourtyard.com.
###