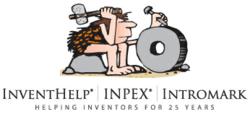 Pittsburgh, PA (PRWEB) February 01, 2012
InventHelp®, America's largest invention submission company, announces that one of its clients, an inventor from Ohio, has designed a portable squeegee that enables an individual to wipe down a stadium seat so that it's not wet. This invention is patented.
The "Compact Portable Stadium Seat Squeegee" could provide a convenient way to wipe down a stadium seat, and would save the user from having to sit on a wet, uncomfortable seat. The invention would ensure that the user has a squeegee readily available, and could also be used to clean the windshields on toy cars. Designed to be compact and lightweight, the Compact Portable Stadium Seat Squeegee would be portable, easy to carry and easy to store.
The invention would resemble a conventional squeegee, but would only measure 4-inches long, 1/8-inch-thick and 3-inches wide. The squeegee would include an interchangeable sponge blade, and the head is mounted to a telescopic handle that moves either vertically or horizontally. Producible in different colors, the Compact Portable Stadium Seat Squeegee could be used as a promotional item for a sports team, featuring that team's logo or colors. Alternate designs could include the head of the squeegee supported by folding arms on either side, or could include a light at the end of the handle for convenience. The invention would be designed to be stored in a vehicle's glove compartment or carried in a purse or one's pocket.
InventHelp® is attempting to submit the invention to companies for review. If substantial interest is expressed, the company will attempt to negotiate for a sale or royalties for the inventor. For more information, telephone Dept. 10-WGH-4004 at (800) 851-6030.
Manufacturers interested in reviewing additional inventions and new product ideas can contact InventHelp's marketing partner Intromark by filling out an online request to review new product ideas here.
# # #