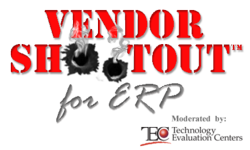 Its a time saver - I learned so much about the different vendors - it has armed me to be a better selector.
Miami, Florida (PRWEB) February 01, 2012
Due to the increased social media buzz surrounding the Vendor Shootout™ for ERP, the leadership team has announced today they will begin offering discounts via Twitter for manufacturing and distribution companies planning to attend the February 22-23rd event in Miami, Florida.
Weekly #Twiscount codes will be posted via Twitter and available to followers of the event's Twitter profile @VendorShootout. These #Twiscount codes will be shared daily and will change each week leading up to the Winter 2012 event in sunny Miami. The #Twiscount codes should be entered on the online registration form and discounts will be applied once registration has been confirmed.
The Winter 2012 Vendor Shootout™ for ERP event is scheduled for February 22-23, 2012 at the Miami Marriott Dadeland in Miami, Florida. Enterprise Software products being presented at the Winter 2012 Vendor Shootout™ include abas ERP, EPICOR, Infor ERP Syteline, IQMS EnterpriseIQ, Microsoft Dynamics AX, Oracle JD Edwards, Plex Online, SAP Business ByDesign.
To register for this dynamic event or for additional information, you may contact Sonja Hodges, Event Coordinator, at info(at)erpshootout(dot)com or 877-907-2702.
About Vendor Shootout™ for ERP:
For several years now, the Vendor Shootout™ for ERP has changed the way companies approach software selection by minimizing the overall time and effort involved in qualifying potential Enterprise Software vendors. This unique event offers a one-of-a-kind opportunity for you and your team to see the best in Enterprise Software Solutions in the world all in one place, all at the same time!
Geared toward ERP selection teams and decision makers for companies with manufacturing and/or distribution requirements, the Vendor Shootout™for ERP is ideal for businesses who are budgeting for or are currently evaluating ERP software. Through scripted and unscripted product demonstrations from several leading enterprise software vendors, companies can ultimately walk away with a short list of potential products.
Hosted by brij Image and Information and moderated by Technology Evaluation Centers (TEC), the Vendor Shootout™ for ERP is a one-of-a-kind opportunity for you and your team to:

Witness live, scripted product demonstrations from leading ERP vendors--allowing for a true apples-to-apples comparison of functionality and ease of use.
Meet the vendors in a zero-pressure environment.
Network with others who are going through the same process
Reduce the overall cost, risk, and duration of your selection project
###