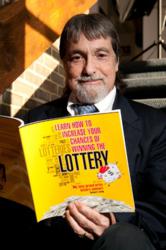 Orlando, FL (PRWEB) February 01, 2012
Richard Lustig, who has won millions as a lottery player says "Obviously, the lottery has been very good to me and my family. Along with my seven game grand prizes, I've won dozens and dozens of smaller prizes too. But there are some things that players need to be aware of in terms of these new Powerball changes that may not benefit them."
Powerball, the most widely played lottery game in America, has undergone significant changes to the game structure and prizes given out. Those changes are now in effect, and include what officials say will create better odds, bigger starting jackpots, and more million dollar winners. The biggest change comes if you hit 5 white numbers without the Powerball. In the past, you would win $200,000. With the new changes in the game that prize has been increased to a cool one million dollars; if you hit the "Power Play" you would walk away with two million.
But, as Lustig notes, to go along with the larger winnings, a single Powerball ticket will now be $2 per play and $3 with the Power Play. "I'm not sure that some of the people who will risk spending a buck on the Powerball should be throwing down two or three dollars", says the multiple lotto winner, who advocates always playing responsibly.
Richard Lustig has shared his strategies on how to increase your chance of winning the lottery on CNN, Fox News, The Today Show Australia, The Rachael Ray Show, NPR, Sirius/XM, Ripley's Believe It Or Not, Headline News, Good Morning America, Women's World, The Daily Buzz, Mancow and dozens of other leading media outlets.
To request an interview, contact Allen Media Strategies Rebecca Fuentes at rebecca(at)allenmediastrategies(dot)com or 703-589-8960.
###