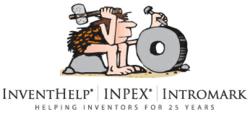 Pittsburgh, PA (PRWEB) February 03, 2012
InventHelp®, America's largest invention submission company, announces that one of its clients, an inventor from California, has designed a paperweight that features a wine cork suspended inside. This invention is patented.
The "Wine Cork Paperweight" accessory could provide a lasting memory of a special event. The item could serve as a keepsake for a special occasion and thereafter, stimulate conversation. Ideal for wine aficionados, Wine Cork Paperweight enables individuals to reminisce through the design of this personalized gift.
Wine Cork Paperweight would consist of a paperweight that would be made of glass or acrylic. The paperweight would feature a round base with a domed top and measure three to four inches tall and three to four inches in diameter. A wine cork would be suspended inside the paperweight. A label on the underside of the paperweight would display the winery and vintage. A plate can be adhered to the bottom of the paperweight that could be engraved for personalization. Wine Cork Paperweight could be produced in various shapes and sizes.
InventHelp® is attempting to submit the invention to companies for review. If substantial interest is expressed, the company will attempt to negotiate for a sale or royalties for the inventor. For more information, telephone Dept 10-SFW-122 at (800) 851-6030.
Manufacturers interested in reviewing additional inventions and new product ideas can contact InventHelp's marketing partner Intromark by filling out an online request to review new product ideas here.
# # #