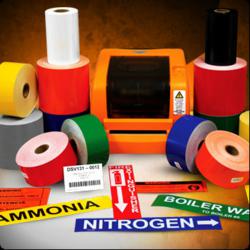 It's important to continue to build our online presence to reach out and communicate all the many labeling applications we encounter..."
Portland, OR (PRWEB) February 01, 2012
Graphic Products, Inc. – known worldwide for DuraLabel printers and supplies – is expanding its online library with more than 26 new articles addressing Arc Flash, 5S, Kanban, Kaizen, Pipe Marking, Personal Protective Equipment (PPE) and other in-demand safety and industrial efficiency related topics. These resources, available at http://www.duralabel.com/articles, are free of charge and do not require registration.
With numerous How To Guides, Ask The Expert columns, Product Catalogs and Blogs, DuraLabel and Graphic Products are providing facility managers, environmental health & safety directors and plant supervisors with resources to control visual communications, save lives and improve workplace conditions.
Created for workers in industrial environments, these brief and informative articles provide timely, newsworthy, industry-appropriate and compliance-based information including ANSI a13.1, ASME a13.1 and NFPA 70E standards.
Readers may take their pick from these titles:

Construction Dangers & Scaffolding Safety
Industrial Safety
Lockout/Tagout
Stadium Safety
How OSHA Sets Standards
Short Circuit Current Rating (SCCR)
Color Coding Can Bring New Efficiencies to Global 5S Management
NFPA Standards
Hazardous Materials Identification System (HMIS)
Floor Marking
Electrical Labeling Requirements for Solar PV Systems
Pipe Marking & Pipe Labels – ANSI Color Coding
Hospital Facility Safety
Lab Safety
Chemical Safety
OSHA 300 Requirements
Military 130 Requirements
New articles are added often. Upcoming topics including sign and label guidelines for the beverage industry, tool crib management, casino safety and security, leak detection and repair (LDAR), properly labeling tangled telecom cables and the ten most common hazards at your facility.
"It's important to continue to build our online presence to reach out and communicate all the many labeling applications we encounter," said Steve Stephenson, Graphic Products. "If you have a labeling challenge that needs to be solved, we encourage you to contact us."
Graphic Products, Inc. has more than 40 years' experience in the safety labeling industry. With more than 50 unique labeling supplies providing the right label material for nearly every type of environment including Arc Flash and Pipe Marking, a full family of thermal transfer printers for every application, a five-year warranty on labels made with premium vinyl, free technical support and after-sale service and satisfied customers throughout the world, Graphic Products is equipped to solve unique problems in the industrial safety arena. For more information, visit http://www.DuraLabel.com.
###