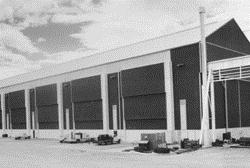 Costa Mesa, CA (PRWEB) February 01, 2012
Vortex started out in 1937 as LASSCO and specialized in door repairs and installations.
When World War II came in 1941, LASSCO played its part, building blast doors for bomb shelters and hangar doors for Air Force bases. Although they were hampered by the severe rationing of the times, they still received several commendations and citations for quality and speed of delivery.
After the war, the economy blossomed with new construction. LASSCO fabricated and installed thousands of gates and folding steel doors. In 1972, LASSCO reorganized into the Los Angeles Door Repair Corporation and concentrated on repairing warehouse doors.
Their first branch office, Orange County Door Repair, was started in 1974 and quickly expanded into San Diego, CA.
In 1979, they needed a name change to reflect their wide variety of door installation and repair work. The new name had to represent an image of strength,motion and reflect a company on the move. The name "Vortex" did just that.
During the 1980s and 1990s, a total of twelve Service Centers were operating smoothly and successfully throughout California, Nevada, Utah and Colorado. Expansion into Oregon, Washington and Arizona quickly followed at the turn of the century.
Vortex was a feature story in the Orange County Register in 1993 as a business that successfully overcame challenges. They appeared in Nation's Business Magazine in 1994 as a company who had to reengineer themselves to the changing times and market demands. In 1995 they were featured in the book The Reengineering Revolution by Dr. Michael Hammer as an example of how to make strategic and hard cultural changes to continue to move forward.
In the late 1990s, they further emphasized their customer-oriented philosophy and strengthened their commitment to provide the highest quality and fastest service in the industry. Their goal is not just to repair doors, but to make Customers happy.
Vortex is still family-owned and has a clear path. It is their goal to provide the same great service and friendly attitude using traditional Customer Service techniques passed on decade after decade.
About Vortex Doors
Vortex is a family owned business, passed through generations since 1937. "Our foundation is built on delighting Customers. If you do that right everything else will fall into place," states Mike Kattan, President of Vortex.
You can reach Vortex at (800) 698-6783 or visit their website at http://www.vortexdoors.com.
###