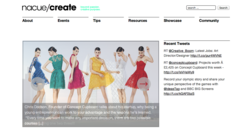 Creatives are incredible value generators for the UK economy and we believe that it's time to recognise that the needs of such entrepreneurs differ.
(PRWEB UK) 1 February 2012
NACUE (National Association of Colleges and University Entrepreneurs) is launching the UK's first student network for creative entrepreneurs, NACUE Create, on February 8th. In recognition that creative enterprises generate significant value for the British economy, NACUE Create will drive the growth of creative student entrepreneurship across the UK.
The creative industries currently represent 8% of the economy, contributing £66 billion to British GDP and employing over two million people. Contrary to popular opinion, our creative output is no longer at the margin of the economy, but at the heart of it. And the creative sector has a key role to play in the economic recovery.
The creative sector is highly dependent on small-scale enterprises. For Britain to sustain and even grow the sector, it will need to invest in nurturing new talent and to support actively business incubation and start-ups in the field.
NACUE appreciates the fundamental relationship between education and the creative industries to which graduates progress. For creative graduates – those from disciplines like fashion, art, design and theatre -, work is highly characterised by self-employment and portfolio careers. Albeit that creative graduates are armed with skills they can deploy thanks to their degree, they can often lack the commercial awareness to implement those skills as a freelancer or entrepreneur.
Hushpreet Dhaliwal, CEO of NACUE, said: "Creatives are incredible value generators for the UK economy and we believe that it's time to recognise that the needs of such entrepreneurs differ." NACUE is launching NACUE Create, its creative chapter, to offer tailored support to creative students. The first of its kind, NACUE Create is the UK's very own student network for creative entrepreneurs. With the guidance of a steering committee, which includes Emma Jayne Parkes of SquidLondon, NACUE Create aims to improve the support for and preparation of students who seek to turn their passion into profit.
NACUE Create will continue NACUE's 'grassroots' approach by working with creative institutions and their students to build student-led creative enterprise. The Royal College of Art has set up the first of such creative societies, Artrepreneurs, a thriving hub of creative enterprising activity. Lizete, President of Artrepreneurs, said: "The support NACUE Create has provided has been absolutely invaluable - without it Artrepreneurs would not have had the successful start that it did." Such creative enterprise societies will run activities such as mentoring schemes, guest speaker events, networking sessions and portfolio critique events.
Additionally, NACUE Create is launching a website with everything the creative graduate needs to equip themselves to freelance or start up creative businesses. Encouraging resourcefulness and proactivity, it is the go-to place to gain the skills, knowledge and contacts to venture out successfully and remain competitive. Luka Blackman-Gibbs, Creative Community Engagement Officer for NACUE Create, said: "We are building a strong network of like-minded individuals that will encourage collaboration amongst aspiring creative entrepreneurs."
Notes to Editors
For media enquiries and interview requests, please email press(at)nacue(dot)com or call Luka Blackman-Gibbs on 07790820744
Everyone quoted is available for interview
Please find attached the NACUE Create logo and a screenshot of the new website.
Online
About NACUE Create
· NACUE Create is the next chapter in the NACUE story. It launches at the Royal College of Art on the evening of February 8th.
· As part of the 'grassroots' approach, NACUE Create established Artrepreneurs with the Royal College of Art in December 2011. It is the first student-led creative enterprise society.
· NACUE Create is currently working with the Central School of Speech and Drama and the University of Arts London to establish further student-led creative enterprise societies.
· NACUE Create is also working with existing enterprise societies at non-creative institutions to build specialised arms to service the needs of creative students.
· The NACUE Create website has been designed by a UAL graduate and freelance designer.
· NACUE Create uses images from artists and photographers to accompany copy. The sources are credited in order to help expose graduate creative talent.
· NACUE Create is collaborating and harnessing existing creative resources and networks.
About NACUE
The National Association of College & University Entrepreneurs is a grassroots charity that stimulates student enterprise by supporting, connecting and representing enterprise societies, enterprising students and student entrepreneurs in Colleges and Universities across the UK. Launched in May 2009, NACUE now engages more than 60 university enterprise societies in England (70 across the UK) and represents the views of over 40,000 enterprising students to policy makers in all levels of Government, Industry and Education.
NACUE's society support mechanisms have been commended by the World Economic Forum and the United Nations. The charity has been recognised by Real Business Magazine as one of the 'Champions of Entrepreneurial Britain', and its Founder was recently awarded the Queen's Award for Enterprise Promotion for her work in building the organisation. NACUE continues to be supported by its founding partners, Lloyds TSB Commercial and Tata.
NACUE has driven the global expansion of its model through the creation of the International Consortium of University Entrepreneurs (iCUE), with organisations operating in 12 countries across the World based on NACUE's best practice model.
Additional Quotes
Hushpreet Dhaliwal, CEO of NACUE, said:
"NACUE Create is our very first expedition in providing tailored support to this community of wealth creators."
Luka Blackman-Gibbs, Creative Community Engagement Officer for NACUE Create, said:
"We've formulated a bespoke website that caters to the creative student audience."
Pei-Chin, Student Development Officer at University Arts London is currently working with NACUE Create to build a student-led creative enterprise society and said:
"NACUE Create offers comprehensive support for encouraging bottom-up student participation, which is crucial for creating a vibrant and self-sustaining community for enterprise."
Chris Dodson, Founder at ConceptCupboard, Top 20 UK Startup 2011, said:
"I understand the importance of having a great network of contacts, resources and support in order to set up a successful business, which is why we're happy to work alongside NACUE Create and support their initiative."
David Bullen, a current student at Royal Holloway University London, said:
"I'm in the process of trying to set up a professional theatre company. NACUE Create sounds like such a fantastic resource for anyone who's not sure where to look next and I'm really looking forward to making the most of it."
Andrew Penaluna, Professor of Creative Entrepreneurship at Swansea Metropolitan University, said:
"As a designer, I am often drawn to the parallels that I see between design education and enterprise education. NACUE Create will help to redress the need for business acumen, giving creative students a real voice to champion their skills and offering meaningful exchanges between like-minded enterprising creatives."
###