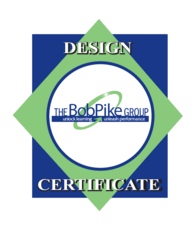 "Great workshop for new and experienced trainers. Valuable information that can increase your ability to cover more information better & quicker." – Aleesha Burkeen, MCFTB Director, MCAS Cherry Point
Eden Prairie, MN (PRWEB) February 22, 2012
The Bob Pike Group introduces certificate weeks that offer superior training for an exceptional value. Certificates are completed in one week. These certificates help distinguish one from others who list training on their resumes. The four training certificates available are: training delivery, training design, facilitation and virtual training.
The Bob Pike Group focuses more on the side of making training participant-centered and interactive so all of our certificate class requirements ensure that participants become very knowledgeable with practical experience in this methodology.
"Certification shows you have up-to-date information on the industry, techniques and trends (not just fads) about how to best implement effective learning transfer," says Bob Pike, chairman and CEO of The Bob Pike Group. "Getting certified gives additional credence to the fact you are a credible resource in your field."
"People learn best by doing. I'm not sure how or why we made the switch from experiential learning to rote memorization and lecture; but, to be effective trainers, we need to help people learn, not just teach," Pike said. "Our courses will help you gain the foundation to do this while also covering the research that demonstrates why these participant-centered models work."
Class details and dates are available at http://www.bobpikegroup.com/pages.asp?pageid=72224
###