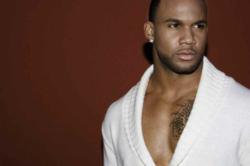 Get It All, it sounds cliché. But its meaning is very profound. If working on or for something, one must put there all into it. Get It All, does not mean greed. It means at the end of the day if you start something you finish it.
Los Angeles, CA (PRWEB) February 01, 2012
3 Stars were born and then they were brought together.
The world has been familiar with these three faces, but now Super Bowl 2012 New England Patriot Bret Lockett, Prince Syc and DeJuan Turrentine are coming together to accomplish what they were born to do, music. The much anticipated single and music video "Get It All", produced by Prince Syc, is scheduled to be released this first quarter of 2012. This dynamic trio is banding together for this particular project in collaboration. The message you may be asking? Yes, the message is simple… it's to inspire the world to strive for excellence no matter what the hardships may be. When the world is currently buzzing of doom and gloom, these artists are pushing positivity instead. The past and character of each of these men and what they have set their minds too speaks for itself. So, it's a no brainer that "Get It All" is a much anticipated powerful inspirational track that in minds everywhere will be a monster record.
Bret Lockett currently a NFL New England Patriot (defensive back)/ model/ recording artist/ entrepreneur and charity spokes person for youth of tomorrow, there is nothing holding him back from the next level. Bret is the center of weekly Magazines and industry buzz as the world is watching for every step. A graduate from UCLA, Bret Lockett was not drafted into the NFL but was awarded as he never took no for an answer. After he was bullied in his early years in a California High School, he kept playing football and reached for the stars with his hard work and ethics. As a result Bret has been asked to be a part of multiple charities including the NOH8 campaign. As he is a role model to stop the hate against any individual, but rise above the negativity and pursue your dreams. Currently he has been working on his music profession as this was a natural passion for Bret. He is a person who has deep passion and respect for music, he has committed to studying Jazz and classical piano as well. It's in his blood, as Vernon Green was his uncle. Vernon Green was the lead singer of old school R& B group, "Vernon and the Medallions". He is set to release his mix tape this year entitled "Inception" via his company Inception Entertainment this year. Before mix tape release, he has joined forces with Prince Syc and DeJuan Turrentine for their first single release.
Prince Syc also a familiar face as he has been exposed to the world's eyes as a successful International model. Prince Syc has graced the pages of Vogue, Elle, GQ, Details, Interview and the list goes on. He has also been involved with campaigns such as Versace, Tommy Hilfiger, Ralph Lauren, etc. For Syc, he was blessed with meeting the New Kids on the block manager Dick Scott and he encouraged Syc to model. This is not where it began. The story started in the ghetto of Pasadena, where Prince Syc saw his mother struggle to make ends meet to provide for him and his siblings. Instead of turning into a product of his environment, he harnessed that energy into his talents. Syc is a self taught multi instrumentalist whom plays piano, drums and guitar. Syc joined a rap duo group with Wade Robeson called "Quo". Quo's album was on MJJ/ Sony, Michael Jacksons first artists signed to his label. Currently Syc is working on a book that is a tell all story of his experiences working with Michael Jackson, "The King of Pop". Syc has recorded a plethora of songs with music super star R. Kelly, which some of the collaborations to be heard on his upcoming mix tape this year, which he wrote and produced in its entirety. Syc was given an opportunity by Interscope's co founder Ted Field, chairman of radar pictures that produced the feature film "Waste Deep", where Syc made his acting debut. The movie starred Tyrese and ironically the two stars started their modeling careers at the same time and were both together in the Tommy Hillfiger campaign.
DeJuan Turrentine aka "Mr. Pop Funk" was exposed to music from an early age. From his uncle Stanley Turrentine a well known musician, to his brother in "Quo", he knew this was the path he also wanted to take. As a self taught pianist and bass player, DeJuan is prolific song writer and producer as well. DeJuan and his brother Syc started their own production company called Blaque Roze, and DeJuan has a mix tape on the way this year. He is also a part of boxing champion Floyd Money Mayweather "Money Team". DeJuan also has his feet in the acting world as well. He has been seen on the silver screen in leading roles in "Way Past Cool", "A Good Man is Hard to Find" and "Down To The Last Minute". He has also been a part of television series such as "Love Inc" and "Judging Amy". Amongst his many successes, DeJuan has also had two national commercials such as Sprite and Reebok. As the music inside DeJuan is a natural born talent in his blood, it is his time to be the main face artist and release to the world this vision.
http://www.getitallcampaign.com
Media contact:
Kelly K Public Relations
6262524416
kellykpr(at)yahoo(dot)com
###