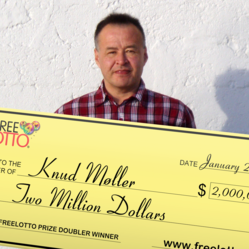 I have won a large premium and am very pleased for it. I would recommend other people to try Happiness with FreeLotto. Thank you very much to FreeLotto.
New York, NY (PRWEB) February 01, 2012
Knud Møller, a 57 year old father of three from Greenland, became a $2,000,000.00 winner on October 25, 2011. Like many, Møller faced financial hardship over the past few years. When he came across FreeLotto.com ®, a website that offers players six daily games with a chance to win over $11,000,000.00, he was excited about the opportunity.
Møller played the free game initially but after two weeks decided to take advantage of the FreeLotto Automatic Subscription Ticket (F.A.S.T.) optional service that automatically plays a user's lucky numbers for all six games every day, as well as, FreeLotto's Prize Doubler option that doubles a player's winnings automatically. He selected his numbers for all six games, a combination of his family's birthdays, submitted his credit card to pay the small monthly service fee, and hoped for the best.
Over the first few months of his F.A.S.T. membership, Møller won a handful of small prizes including $5.00 which he donated to Child Welfare Fund International through FreeLotto's Click2Give charity program. The Click2Give program enables prize winners to donate all or a portion of their prize winnings to one of 23 charities that participate in the program. FreeLotto's Click2Give charity program was started in 2003 and to date players have donated a total of $1,139,445.18.
When Møller won the jackpot on October 25, 2011, he was totally surprised and didn't quite believe it. The prize will be paid in annual installments of $80,000.00 over the course of twenty-five years. Møller has already decided to donate $10,000.00 to Child Welfare Fund International, saying, "I have always wanted to support welfare work for kids. It is a cause that is close to my heart."
During the interview, Møller told the FreeLotto Prize Team, that he is "very thankful and very happy," and said the win will make him "free from economic worries. My liberty will be much greater in relation to now – I will feel much more at ease with the daily expenses." He plans to use the winnings to support his children, specifically their educations as well as save for a house in Nuuk, the capital city. He plans to keep his job with the Greenland government where he works as a translator because he loves it, but will take a few months off in the summertime to enjoy his win, take a trip to Denmark, and spend time on his hobbies - boating, fishing, and hiking along the fjords.
About FreeLotto.com®
Freelotto.com® is the largest online lottery-style sweepstakes website. Since 1999, FreeLotto® has awarded over $95 million in cash and prizes. FreeLotto.com is an advertising supported website that offers players the chance to win cash everyday with the following games: FreeLotto® $1 Million Cash Classic, $10K Fast Cash, $100K Pay Off Your Mortgage, $50K Win A Car, $100K Giveaway and $10 Million FreeLotto® Superbucks. To participate in FreeLotto®, players log onto http://www.FreeLotto.com, select their numbers on a gameboard and then click an advertising banner or answer a question to submit their bet for free. To learn more, visit: http://www.FreeLotto.com.
###