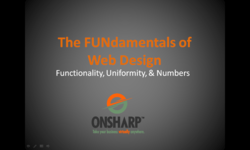 Fargo, ND (PRWEB) February 02, 2012
Onsharp will be hosting a free webinar about web design on February 10th at 10:00 am CST. Whether it's a designer new to the web design world or an experienced designer, it's going to be "FUN" while presenting Functionality, Uniformity, and Numbers. Get it now? The webinar is about the FUNdamentals of Web Design.
Onsharp believes that client education is a foundation to delivering an unparalleled customer experience. That's why Onsharp offers different resources, such as The Fundamentals of Web Design webinar and many different blog posts about design. One post that talks about planning of your web design and things to keep in mind is "Your Website is for your Visitors, Silly!"
We've also created an infographic- "The Power of Web Presence"
Businesses of all sizes are encouraged to sign up to attend The FUNdamentals of Web Design. There are things to know before designing a website that will fuel a company's success. When attending our webinar about the Fundamentals of Web Design, Onsharp will discuss how to have a better understanding of how a website design should function. Also, review and explain of the importance of consistency and uniformity, and teach which numbers will reveal success. Registration is required.
Onsharp is an interactive agency that architects, builds, and supports web-based solutions. We're passionate about technology, but not just because we think it's cool. We are experts at helping businesses understand how new technologies and trends can help them meet customer demand while improving productivity. Onsharp strives to create success in the lives of all people, businesses, and communities they serve. For more information about Onsharp, please visit http://www.onsharp.com or call toll-free at 1.866.ONSHARP.
###