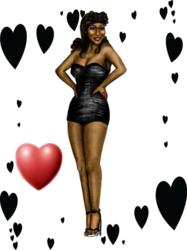 I've never seen Black pinup girls! I love it! It's about time!" Dana M. Edwards
Brooklyn, NY (PRWEB) February 01, 2012
Noir A-Go Go is riding the wave of a great first year and wants to share the love.
An online gift store that features Black pinup girls on greeting cards, magnets, tote bags, tee shirts, postcards, and Post-its, Noir A-Go Go puts the black in the magic that is 50s Americana.
Employing original artwork to showcase Black pinups in classic poses with sayings like "Trust Me Sugar, I've Overcome!" and "Fear Is So 1950s", Noir A-Go Go explores a virtually unknown world.
The American pinup girl genre, beginning with WWII sweetheart Betty Grable and continuing on down the line to the infamous Betty Page, is a revered piece of American nostalgia. From the 1940s until the present, girls from California to Mexico don pencil skirts, tight polka dot sweaters, fishnet stockings, stacked heels, and flip their hair, in order to achieve "the look." And although companies as diverse as clothing, housewares, and novelty gifts, have capitalized on the desire of women to be sexy and sweet, something has always been missing, namely women of color.
Offering curvaeous, smart, strong, and witty pinups, a hit with the Harlem Book Fair, the Brooklyn Book Fair, the 6th Annual NYC Black Doll Show, and gift stores around NYC, Noir A-Go Go puts a sepia spin on a beloved genre. Love is indeed in the air.
###