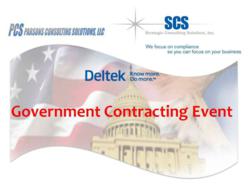 The speakers provided relevant information for the challenges we are facing today
Oak Ridge, TN (PRWEB) February 09, 2012
Successful government contracting can be a very lucrative and rewarding experience on many levels. However, with that experience also comes a few potential roadblocks and hazards. By combining forces with other industry leaders such as Deltek and Parsons Consulting, Strategic Consulting Solutions envisions bringing their expertise to the charming Charleston, SC area for an informational seminar.
Knowledgeable speakers will be covering essential topics and issues facing business owners interested in doing business with the federal government. Earned Value Management, Cost Accounting Standards, Compliant Accounting Systems and SPAWAR's Small Business Program are just a few of the subjects to be explored.
In addition to the sharing of guidance and advice on government contracting by industry experts, the event is conducive to networking with other business owners which have complementary interests. Government contracting is prolific in Charleston as is evidenced by the presence of the area's Defense Contractors Association and its multitude of members.
SCS has successfully hosted similar events near their headquarters located in Oak Ridge, TN with positive results. "The speakers provided relevant information for the challenges we are facing today" one attendee wrote. Another remarked "This seminar had a diverse set of speakers and services available. I came for the accounting portions but learned much more!"
The seminar will be conducted at the Sheraton Charleston Airport Hotel with reduced room rates negotiated for the event. Shuttle service is available between the airport and the hotel. And, with the event being held on Thursday, March 22nd, 2012 perhaps an extended weekend in historic Charleston could be in order.
For more information about Strategic Consulting Solutions, please visit their website at http://www.scsconsults.com. Registration is now open with an early registration rate until March 5. Follow the link to the GovCon Seminar information site to register.
###