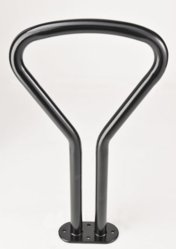 We are committed to doing whatever we have to in order to see these discontinued models installed at businesses across the country.
Surrey, BC (PRWEB) February 01, 2012
Effective immediately, Reliance Foundry has committed to providing the lowest price found online for secure, cast iron bike racks. The models in this low price point are high quality racks with styles that have been discontinued.
The need to provide secure bike parking is growing for businesses and multi-family residences across the United States and Canada. National initiatives have increased bike purchases, stimulating the bicycling industry and promoting better health for kids and adults.
As new bicycle racks are added to Reliance's bike parking product line, others are often modified to add new features, or discontinued to display only the newest versions of the best bike parking products available. The older, modified, discontinued, or test-model bike racks are for sale at all-time-low prices that are guaranteed not to be found anywhere else on the web. This makes it extremely affordable for businesses, city municipalities and property managers to obtain bike parking racks for employees and residents.
There are a variety of models to choose from and prices currently begin at under $100 for some styles. As these models are sold, they will no longer be available.
Bike parking products are a rapidly growing market segment for Reliance Foundry. Reliance will continue to strive to be a leader in the latest technology and styles to bring secure bike parking to the market.
###