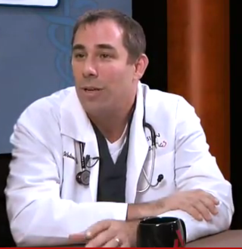 We don't want to have an office where the insurance determines whether you get quality care
Riverside, CA (PRWEB) February 01, 2012
With the hard economic times negatively affecting nearly every facet of life lately, it is relieving to see a Southern California pediatric center dedicated to providing children and their families excellent service, despite their insurance situation. Mission Pediatrics in Southern California has offices located in the cities of Perris and Riverside, these offices flanks 3 major hospitals in which they provide care.
A clear goal of Dr. Watson is to create __title__ ] as positive an experience as possible for his patients in spite of their illness or economic disposition. "We don't want to have an office where the insurance determines whether you get quality care. We want all our patients to understand that wherever you come from in your background, we're going to give you good quality and good care."
Mission Pediatrics specializes in full service pediatric care, and provides accessible, 24-hour emergency on-call services—all while maintaining friendly, compassionate, and even amusing practices.
As the new Medical Director, Dr. Watson has begun introducing his own, unorthodox tactics to distinguish Mission Pediatrics as a place where "doctors and staff are happy and enjoy what they do. We come to work with a smile on our face, and we're accessible to our patients."
However, Dr. Watson's efforts to make a patient feel welcome and at ease don't end at their wallets. Dr. Watson relies not only on medicine and health practices to help cure his patients' ailments, but also a dash of humor and magic. When a child comes in with a minor cut or bruise, sometimes they will be surprised to find that the affected area now squeaks at Dr. Watson's touch. His secret? A small squeaky ball he conceals to surprise his young patients helping get their mind off any pain or discomfort they might be experiencing. "That kind of stuff is just fun for me and fun for the patients. In the end, it takes the worries and brings them down a little bit, people feel a little bit better."
With Dr. Watson's background, it isn't surprising that he would turn to such lighthearted methods for reaching his young patients. Before becoming a pediatrician, Dr. Watson worked as a schoolteacher for several years, "I'm a kid at heart, I love children. I've always enjoyed working with kids." His experiences tuned him in to the health needs of the community, children especially.
Dr. Mustafa-Infante a new addition to Mission Pediatrics also decided to become a pediatrician after seeing firsthand the needs of the underprivileged Latino community both in her native South American country and in Inland Southern California region. Since then, she has dedicated herself to "always working as a pediatrician with my Latino people, that is the best opportunity I have to help."
Both doctors also attribute having their own children as a huge benefactor to providing their unique brand of compassionate care. Under Dr. Watson's lead, Mission Pediatrics prides itself on the availability of its staff to answer patients' needs, no matter the time or place. "I don't think there's a stupid question" Dr. Watson claimed "When someone calls me worried about their sick kid in the middle of the night, I've been there... as a parent I have compassion and empathy, and an ability to connect on a level that perhaps I didn't have before having kids." Alongside the emotional and psychological benefits being a pediatrician with children offers, there are also practical benefits that have helped Dr. Mustafa-Infante: "Being a pediatrician, we need to understand what is going on with kids, and having kids...we can understand a little bit better what we do every single day in our offices."
Dr. Watson shared a deeper meaning to the name of Mission Pediatrics: "There's a mission to what we do. It's to providing good quality and providing opportunities to patients that maybe otherwise wouldn't have it." It is important to have doctors like Dr. Watson and Dr. Mustafa-Infante to help lift both the physical and emotional needs of the underprivileged.
For more information
Contact: Dr. Tim Watson
(951) 532-3593
docwatsons1(at)me(dot)com
###