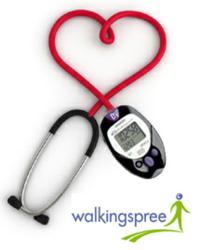 Walking just 30 minutes a day 5 days a week can help lower blood pressure, lower cholesterol and keep weight at a healthy level.
San Antonio, TX (PRWEB) February 01, 2012
Heart disease is still the No. 1 killer of men and women in the U.S. – every 25 seconds, someone will have a coronary event – and every 60 seconds, someone will die from one according to the Centers for Disease Control and Prevention. During February – American Heart Month – Walkingspree is encouraging employers to implement corporate wellness programs to become more heart healthy and take action to reduce their employees' risk of heart disease. Keeping track of cholesterol and blood pressure numbers, eating a healthy diet, and getting plenty of exercise such as walking can dramatically reduce the risk of heart disease.
Walking just 30 minutes a day 5 days a week can help lower blood pressure, lower cholesterol and keep weight at a healthy level. Not only is walking free, low impact, and something practically everyone can do, it is also the single most effective form of exercise to achieve heart health, according to the American Heart Association.
Sometimes thought of as a "man's disease", women account for nearly 50 percent of all heart disease deaths. Studies show that walking briskly will reduce coronary heart disease risk in women by 30 to 40 percent. Even those who walk at a slower pace have a 32 percent lower risk of heart disease compared with those who don't walk at all.
"In recognition of American Heart Month, Walkingspree is launching a special 'Ascend Mount Kilimanjaro for a Healthy Heart' virtual walk for our members. The walk will motivate members to get in their daily steps and provide information about preventing heart disease along the way," said Lisa Rousseau, V.P. of Member Engagement.
Creating a strong wellness strategy will meet the needs of employees as well as reduce health care costs for the company. That is why during the month of February, Walkingspree suggests these actions to make heart healthy choices the easy choices in the workplace:

Promote awareness about the signs and symptoms of heart attack and stroke.
Educate employees about heart disease and stroke prevention by promoting blood pressure and cholesterol level screenings.
Provide nutritional education and more heart healthy food choices in the workplace.
By implementing an ongoing physical activity program and supporting healthy behaviors in the workplace, employers can make 2012 the year for a positive change in their employees' lives and hearts.
ABOUT WALKINGSPREE
Walkingspree is a specialized wellness provider whose expertise is to deliver a technology-driven prevention focused activity program for health insurers and corporate clients. Through customized online wellness portals and programs, clients receive measurable results and engage participants in a feature rich community. The company's corporate wellness program – based on a USB pedometer to track validated steps, interactive food and body trackers, an active social network, and gamification techniques – typically delivers more than 50 percent employee participation and year-over-year member retention. Results are healthier employees and a positive return on investment for clients. Walkingspree programs have been implemented in major health insurers, insurance brokers, Fortune 500 companies, small to medium businesses and non-profit organizations such as hospitals and schools. They also provide a wellness offering for the general public. For more information, visit http://www.walkingspree.com.
###