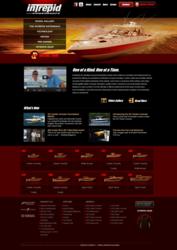 Tampa, FL (PRWEB) February 01, 2012
Intrepid Powerboats desired to raise the bar in the luxury lifestyle industry niche of custom built boats through developing an engaging Web design with new levels of innovation, technology and unique accessibility for their customers. The firms entrusted with creating this web presence were the partnership of Bayshore Solutions and United Landmark Associates. In late July of 2011, Bayshore Solutions and United Landmark Associates proudly announced the launch of the custom website, http://www.IntrepidPowerboats.com. In November, the Intrepid website earned international industry recognition winning a Gold MarCom Award.
Setting the standard for the industry, Intrepid Powerboats new custom website design includes custom created deck plans, virtual tours and detailed images for boat specifications to improve the interactive experience for website users. The website includes a mobile version of the site and a specific design for iPad users.
Intrepid Powerboats' new custom website was announced as a Gold MarCom Award winner for its design in November 2011, just 4 months into its online lifespan. The MarCom Awards Program is one of the oldest, largest, and most respected competitions in the creative industry. The program juries an annual international creative competition with over 5,000 entries each year from corporate marketing and communication departments, advertising agencies, PR firms, design shops, and production companies.
No two Intrepid boats are alike, as each Intrepid is built and customized to the owner's request.This individuality is showcased in the new website with detailed model galleries featuring a slideshow of images illustrating standard features, as well as fully customized examples of each Intrepid model.
Exclusively for Intrepid customers, the site offers a secure Intrepid Owner's Portal complete with auto-location detection. Intrepid owners can access this unique community every time they visit the website. As a part of the Intrepid family, members are able to chat on the owner's forum, locate other Intrepid boats around the world and share photos, videos and more.
Boat-seekers who are not yet Intrepid owners have detailed information at their fingertips with the new website including access to videos, virtual tours, deck plans, images, and descriptions. All site visitors can purchase gear in the online store such as shirts, scale models and many other accessories. The website includes Bayshore Solutions' custom WebModules website Content Management System (CMS) allowing Intrepid website administrators to easily keep the site updated with news, events, videos, images and many custom-built content features.
"I had a clear vision going into this project and not only was the team at Bayshore Solutions able to bring that vision to reality, they were able to bring things to the table that made this project exceed what I had hoped for," said Ken Clinton, President of Intrepid Powerboats. "The other part of projects where many companies disappoint is with the service after the sale. Intrepid considers this one of the most important parts of our philosophy, It was so nice to see that Bayshore Solutions holds the exact stance we do. The service after the launch of the website has been amazing and the team is second to none. I look forward to continuing to do business with them for a very long time."
Intrepid Powerboats has remained a market leader in luxury powerboats for over a decade, increasing share and introducing new models despite the recent economy. At Intrepid, a relentless pursuit of perfection results in the continuous innovation and improvement of a product line offering an unmatched combination of speed, handling, comfort, safety and versatility. Built to the highest standards in the industry, each boat is a showcase of thoughtful details of design, fabrication, quality control, convenience and customization that put Intrepid in a class by itself. Accordingly, their online presence and interactive website supports and showcases their product line while connecting the Intrepid community.
About Bayshore Solutions & United Landmark Associates
Together, Internet marketing, Web design and website development company Bayshore Solutions and strategic marketing firm, United Landmark Associates offer a comprehensive marketing resource that is nimble, scalable and specifically designed to meet the needs of today's digital marketplace, targeting customers, building communities, and increasing qualified leads while decreasing cost-per-lead through a strategic synergy of traditional and digital marketing programs.
Bayshore Solutions offers award-winning capabilities in custom website design, web development, online marketing, web content management and hosting. Bayshore Solutions has delivered web design, development and interactive services to over 1,900 clients in 54 countries with physical offices accessible to the greater Tampa and Miami–Ft. Lauderdale areas in Florida. Learn more at http://www.BayshoreSolutions.com.
United Landmark Associates is a full service, award winning advertising agency specializing in marketing lifestyle brands and companies. For nearly 30 years, United Landmark Associates has helped clients by providing exceptional market knowledge and consumer insight with cutting edge experiential, Web and interactive marketing tools to target customers, deliver relevant content and drive qualified leads. For more information visit http://www.UnitedLandmark.com.
###