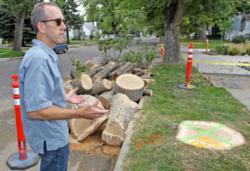 Asheville, NC (PRWEB) February 09, 2012
HOA Website Design start-up HOAConnections Inc. introduces a new homeowner association website solution. Founded by a career property manager from Asheville, NC, who knows the answer to what hurts a lot of homeowners associations: lack of an information exchange. These association websites can be offered at a low cost and in some cases no cost to the homeowners association.
HOAConnections build their HOA websites around one of the most widely used CMS (content management system) systems available, WordPress. Then adds a custom theme built with homeowners associations in mind. Each HOA website comes standard with custom forums, association document posting, homeowner directory, custom calendar events, photo galleries, private emails, and many more options for one low price. For a low fee, homeowners can also enjoy the convenience of Payment Collect through the association's website. HOAConnections also offers two price conscious monthly HOA website hosting packages, depending on the level of service requested. The hoa websites are designed as a direct response to the most frequently asked questions and complaints in a property manager's office from homeowners.
According to MSN.com about 57million Americans are members of a homeowners association or a property owners association. A lot of these homeowners are angry at, upset with or just downright enraged at their homeowners association. Property managers agree that some homeowners feel victimized by, ignored by or deceived by their homeowners association.
President and CEO of HOAConnections, Brian Barrett, said recently, ""Homeowners are upset and frustrated, because they have no idea of what their homeowners association is doing or why they are doing it. Most have no idea where the HOA spends their money. This is the HOA's fault, because there is no clear line of communication between the Board of Directors and the homeowners.
"Members of homeowners associations are speaking up. They use terms like "draconian, evil, heartless, etc." Homeowners truly believe that their HOA is out to get them.
"My experience has been that most violations and disputes between homeowners and their associations revolve around a lack of understanding about the restrictions in place. The other common denominators are poorly attended Board meetings, and minutes never circulating. So, there are homeowners who do not have the necessary information and a Board who does not communicate effectively.
"This all results in misunderstandings and possibly dispute between neighbors, because egos get bruised and tempers flare and the original problems are small in comparison."
He went further to say that as the operating budgets for these associations increase, these issues will continue to grow.
Having several years of association management to draw on, Brian grew the idea of creating HOA websites that provided a vehicle for information exchange into HOAConnections. HOAConnections may be contacted anytime at http://www.hoaconnections.com.
###