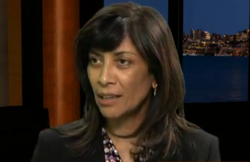 Each time CAI sells one of their jet turbine generators to a company or country overseas, that's more jobs for us in the region
Corona, CA (PRWEB) February 07, 2012
Kasum Kavia, Vice President of Combustion Associates Incorporated recently spoke at the 8th Annual U.S. - Africa Business Summit in Washington, D.C., where her expertise and perspectives greatly contributed to USABC event. Kavia's presentation provided essential tools for first time entrants to the African marketplace and bolstered the business acumen of those who have already begun doing business in Africa. Southern California CEO representative Linda Reifschneider met with Mrs. Kavia, to discuss their recent work overseas in African, and how this has been facilitated by the now export-friendly County of Riverside.
CAI was formed back in 1989 with cutting edge, custom-built energy solutions as the cornerstone of its mission. Located in Corona, California, CAI continues to provide a wide variety of services and equipment around the country, and the world. Today, CAI is respected as a leader and key player in exporting out of Riverside County Kavia having recently been summoned to Washington DC to speak at the Corporate Council on Africa's 2011 Business Summit. The invitation was based largely in part to CAI's recently completed project in West Africa.
When asked about her company's most triumphant moment, Kavia replied: "Over the 20 year course of our business, there have been many ups and downs…but the one thing that comes to my mind is the current project that we're finishing up in West Africa, and that is the 80 mega watt power plant." Originally proposed as a 40 mega watt power plant, the government in the region eagerly doubled the contract upon seeing what CAI was bringing to the table. "By not only providing a cost-effective energy solution for that government, but also providing local jobs in that area, we even beat out the Chinese competition, and they doubled that contract." The smooth completion of this project at a higher level of production than originally planned represents not only a huge success for CAI and the American overseas market, but more specifically, for the exporting prowess of Riverside County.
Kavia recognizes the importance of working with the County of Riverside and their Office of Foreign Trade. "Partnership with the [County of Riverside] is tremendous. I think that [what] Tom Freeman [has done] for the County of Riverside is so vital to our company, but not only our company, but for other companies who are looking to export their product overseas" says Kavia. However, CAI's continued success is beneficial to the county as well. "Each time CAI sells one of their jet turbine generators to a company or country overseas, that's more jobs for us in the region" reported Freeman. The Board of Supervisors has focused in like a laser beam on the effort of creating more jobs within Riverside County, and in an effort to encourage businesses to relocate within Riverside County they have implemented several incentives to make overseas business easier. "The best thing we can offer a business right now…is a program called Fast Track." Freeman explained, "Fast Track allows a company that's creating jobs to come into Riverside County and go to the front of the line for the permitting process." Thus enticing businesses to provide jobs to Riverside County residents as opposed to anywhere else.
With such a successful company as CAI as a poster child of the county's efforts in foreign trade, more and more jobs should become available as other businesses strive for the same results. By providing clean water and power to impoverished communities throughout the world, Combustion Associates Incorporated is simultaneously creating jobs and opportunities for local residents in need. The humanitarian efforts the company is making present a clear win-win both abroad and at home.
For more information
Contact: Tom Freeman
tomfreeman(at)rivcoeda(dot)org
###