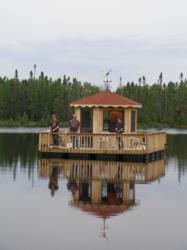 fish often congregate underneath the platform for easy fishing
(PRWEB) February 01, 2012
A one of a kind 18 square foot Floating Gazebo Plan is now available on Gizmoplans.com. The hexagon (six sided) Gazebo was built on a 18'x18' floating platform. Platform construction can be built right on the ice late Winter for early Spring completion and fishing. The DIY Gazebo show how to build a Floating Gazebo using 4'x4'x16" high floats that can be easily obtained from provided suppliers list. The DIY Gazebo Plans size can be modified depending on a individuals needs. To save time a pre-built Gazebo could be purchased locally and mounted onto the floating platform. Floating Gazebo Plans are complete with two 36" handicapped accessible doors for platform and two handicapped accessible doors for entering and exiting the constructed gazebo. A purchased parts suppliers list is also included with the plans to make the floating gazebo complete including type and size of trolling motor, fish finder, doors, electric anchors, and more.
The Gazebo gives a individual the ability to enjoy lakeside homes and cabins more often no matter what the weather conditions are with its enclosed screened windows and doors. The floating gazebo can easily detach from a dock using standard anchor ties and ropes. The Floating Gazebo or Gazeboat is great for relaxing on the water and fishing off of too. When taken out onto the water and anchored into place fish often congregate underneath the platform for easy fishing, just drop a line over the side. Depending on each individuals lake conditions the Floating Gazebo can be left out year around saving time not having to bring it in every year. The deck platform is constructed of a maintenance free durable composite material with the look of real wood. The floating Gazebo Plan was designed with plenty of room and payload in mind. With Gazebo mounted in place there is still plenty of room on the outer platform for benches and storage. The 18'x18' DIY Gazebo Plans were designed to hold up to 20 people depending on weight. Batteries are used on the Floating Gazebo to run all accessories including trolling motor, bilge pump for lake water use, and even LED lights. The Gazebo also keeps ease of use and the environment in mind. Being out in the open and on the lake is a great way to take advantage of solar power. Solar panels can be installed on the roof to keep batteries fully charged to run all of your accessories.
ABOUT US
Gizmoplans is a online informational website where businesses and individuals can download and build products from plans related to recreation, hobbies, recycling industry, woodcrafts, metal fabrication, alternative energy and much more. Businesses and individuals can also upload and sell their plans, patterns, how to ebooks and more benefitting both the purchaser and seller in the diy community.
# # #