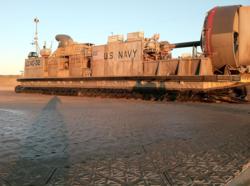 Fairfield, California (PRWEB) February 01, 2012
Macro Plastics announced today the availability of a new plastic matting system, I-Trac™. The engineered design of I-Trac enables lightweight panels to perform on par with larger crane mats while shipping nearly 3 times more product per truckload. Its patented bow-tie shape interlocks in a manner that distributes the load evenly and creates a uniform contiguous surface.
"We saw a demand in the construction and military markets for an alternative to heavy, costly matting systems," stated Dan Jakubiak, Director of the MacroTrac Division at Macro Plastics.
"At only 38 lbs. per panel, I-Trac can be manually deployed in small sections or mechanically deployed in large pre-assembled sections. This cost-effective system handles extreme loads while delivering greater transportation efficiencies than other traditional mat systems on the market today."
I-Trac's versatile mat system is ideal for temporary roadways, helipads, tarmacs, and hangar or maintenance shed flooring.
Current customers include the U.S. Navy who deployed I-Trac as a LCAC hovercraft pad on a military base in California. In Florida, several electric line contractors have I-Trac deployed as temporary access roadways through saturated fields that otherwise cannot be accessed with utility trucks.
The MacroTrac™ family of products (I-Trac™, Supa-Trac™, Supa-Trac Lite™ and Rola-Trac™) are made in the USA, 100% recyclable, and available for both sale or rent. For more information visit http://www.macrotrac.com, call 800-845-6555 or email macrotrac(at)macroplastics(dot)com.
About Macro Plastics
Macro Plastics is the world's largest manufacturer of bulk plastic containers. Based in Northern California with sales and manufacturing facilities located worldwide, Macro Plastics provides innovative business solutions for the agricultural, food processing, retail, industrial and portable flooring markets. For additional information visit http://www.macroplastics.com.
# # #